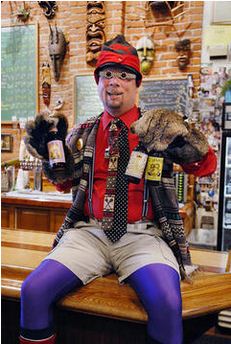 If there were a Mount Rushmore for beer, Larry Bell — founder of Bell's Brewery would be on it.   This is a guy who started with a home brew shop in 1983, selling his first beer in 1985.  Bell's has done nothing but grow since then.   I place him in such high esteem because Larry runs one of the oldest craft breweries in America.   Larry Bell's passion for craft brewing not only changed the face of beer in the US, but also inspired many to follow in his footsteps.
On Tuesday, 1/19/10 you have the chance to meet Larry Bell.  I mention time and time again what a great opportunity it is to meet a brewer and understand beer from their prospective.  Larry will also be tapping an EXTREMELY rare cask of "Van Twee" — the recent collaboration between Bell's Brewery and De Proef Brewery in Belgium.  Learn about Van Twee HERE.
Alongside the cask of Van Twee, you can finally get a taste of Hopslam, Bell's very limited, seasonal Double IPA.
If that's not enough, there will also be 14 other Bell's beers to try.   Yes, I typed that right.  14 more. Honestly, I doubt you can find a reason NOT to come meet Larry Bell, try a rare cask, and enjoy a great beer filled evening.  See you there!
Taco Mac Metropolis, 6pm (01/19/10)
933 Peachtree Street N.E.
Atlanta, GA 30309
(404) 631-6526
@tmacmetropolis (on twitter)