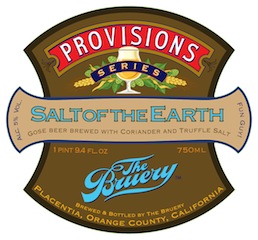 Salt Of The Earth, the next beer in The Bruery's Provisions Series was bottled this week.  It is currently bottle conditioning.  Salt Of The Earth is a gose with coriander and truffle salt.
A gose is an old German style from Leipzig.   It's an unfiltered wheat beer with 50%-60% malt.  Stylistically a gose is spicy & dry, with a nice complexity.  Salt, like truffle salt in Salt Of The Earth gives the gose a sharp flavor.
Salt Of The Earth will be available in The Bruery Provisions store in the coming weeks.
5% ABV