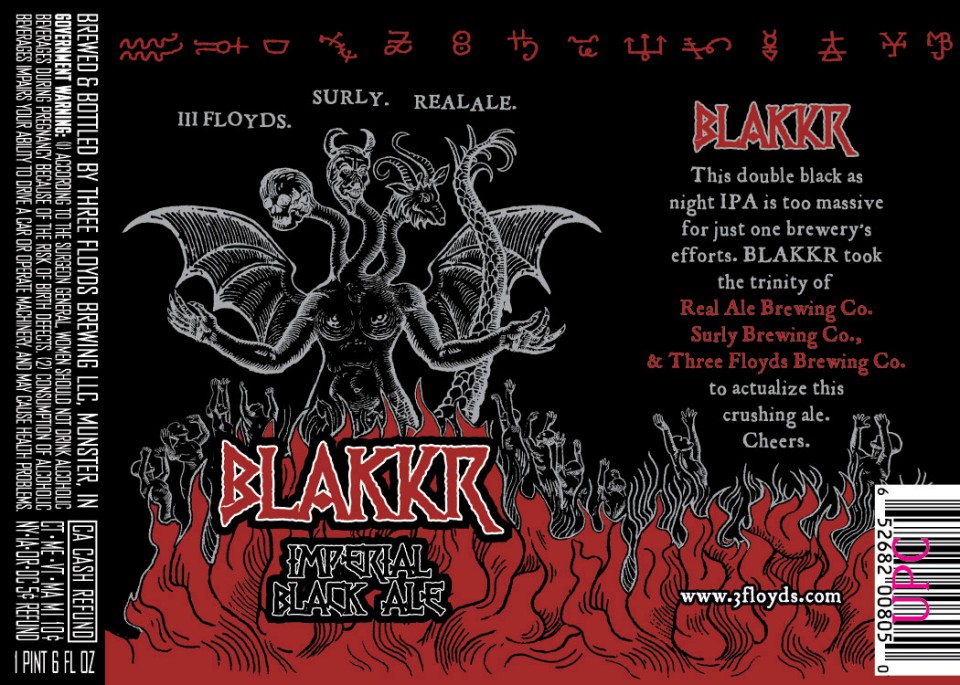 All the details you need on BLAKKR, a metal meets beer collaboration you'll find below. BLAKKR is a three way brew with Three Floyds, Real Ale, Surly, and band Vulgaari.
BLAKKR is an imperial black ale, (black IPA) brewed at all three breweries. Three Floyds released bombers last Saturday at the brewery in Indiana.
Surly Brewing will release 16oz tallboys of BLAKKR on Feburary 24th.
Real Ale is packaging BLAKKR in 12oz cans, and will arrive alongside SXSW on March 15th.
Style: Black IPA
Availability: 22oz Bombers, 12oz Cans, 22oz Cans
Arrival: See Above
?? ABV
Surly launch events:
We'll be doing a BLAKKR Can Release Party at Grumpy's Northeast on Sunday, February 23 from 3-7pm, where there'll be a limited amount of BLAKKR cans available. You can also get a limited edition BLAKKR poster signed by artist Michael Berglund. We'll also be giving away a poster signed by all three breweries and the artist.
BLAKKR Tap Release Party at Grumpy's Downtown Minneapolis on Monday, February 24. BLAKKR will be tapped at 7:06pm. There'll be a DJ from Into the Void, BLAKKR merch will be for sale and we'll be giving away one limited edition BLAKKR poster signed by all three breweries and artist Michael Berglund. 
Twitter:  #SurlyBLAKKR hashtag 
(Blanco, TX) — Real Ale Brewing Co. is pleased to announce the addition of 12 oz. aluminum cans to their package options. Real Ale will begin canning Firemans #4 Blonde Ale this summer and plans to can more of their beers in the near future.
"We are excited to offer this new package to our consumers in Texas," said Brad Farbstein, Real Ale Brewing president. "It's a great option for keeping beer cold and fresh, it's super portable for packing in and out of outdoor areas, and it's 100% recyclable."
Firemans #4 cans will be available in the Austin and the Hill Country markets just in time for the 4th of July holiday and throughout the state of Texas by early August.
About Real Ale Brewing Company:
Founded in Blanco, Texas in 1996 in the basement of an antiques store, the Real Ale Brewing Company has grown into the 45th largest craft brewery in the country, despite only selling its beer in Texas. From their current facility in the Texas Hill Country, Real Ale's dedicated team of brewers produces a wide variety of exceptional ales & lagers using only the finest natural ingredients.
For more information about the brewery and beers please visit www.realalebrewing.com and follow on Facebook: www.facebook.com/pages/Real-Ale-Brewing-Company/85360426538.