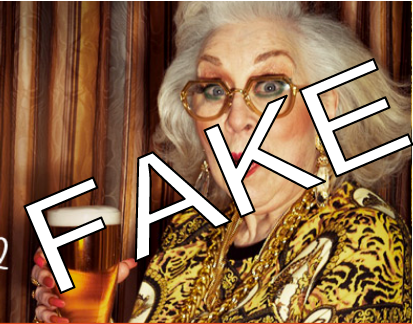 Ethel was a sham. A figment of an imaginative marketing campaign by DDB. AdWeek gets down to the bottom of this nearly instant viral campaign for New York "brewery."  The ads featured an 80 year old grandmother whose husband past away, and to honor him, brew the beer he never had a chance too. The campaign included the 80 year on in a thong, gratuitous octogenarian cleavage, even Ethel calling herself a "GILF."  I dare you to look that up if you don't already know what that is.
Well guess what? She's not real. The backstory, the grandson, the husband, even the beer. The campaign was built to show how DDB can shape and impact the market centered around the Cannes festival. DDB and Ethel certainly did have an impact:
Overall, the campaign racked up more than 2.9 million impressions, according to a spokesperson for the agency, with 2,765 people seeing content about Ethel that was not driven by ads, and 890,929 people seeing content that was driven by Facebook ads or sponsored stories, 419,227 people seeing posts by Ethel, and 8,264 people clicking on Ethel-related content.
There was beer. Well, kind of.  The bottle that did exist were repackaged/labeled beer from French brewery Brasserie Duyck. In all seriousness though. That's a pretty impressive ad blitz. Maybe we can take a lesson from "Ethel."  It's never to late in life to do what you want.  Live it up. [AdWeek]