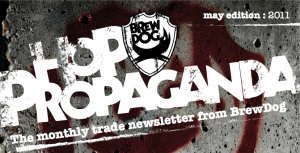 A little on Brewdog's state of Affairs courtesy of their May Hop Propaganda Newsletter. Into the buisness, geeky backend to brewing? Read on.
– 2011 is already a big year, with 200% growth & 400% order increase
– Great news, but the brewery is over capacity/production & having issues delivering
– To fix this, Brewdog is ceasing trading with larger customers consolidating customer base, installing new stock management software, and added external warehousing
– Starting in the beginning of 2011, Brewdog partnered with Meantime Brewing in London to help with production. This will continue until the new brewery is finished in Aberdeen, Scotland.   77 Lager and Zeitgeist are produced there.
– The new Aberdeen brewery will have a full water treatment plant onsite, and will be completely carbon neutral.
– To achieve neutrality, methods include heat recovery, water treatment & re-use, a bio-mass generator, and potentially a windmill.
– Groundbreaking will be in late 2011 for completion by Summer, 2012.
– Brewdog Glasgow construction has started.  New bar will be completed in early July.
– Abstrakt:06 arrives May 16th. A Triple dry hopped black IPA. 11.5% ABV.