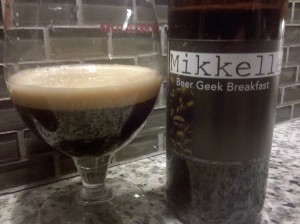 This beer just was just tapped at Brick Store Pub, so it's prompted me to write another bottle spotlight.  Mikkeller Brewery is based out of Denmark, first opened in 2006.  The name Mikkeller is a combination of the two brewer's names — Mikkel Borg Bjergso and Kristian Klarup Keller.  Beer Geek Breakfast finds its way into a lot of beer geek arsenals, so get to know this beer to impress the beer geek in your life.
Beer Geek Breakfast (BGB) is an Imperial Stout with oatmeal & coffee flavors.   (Sounds like a part of a balanced breakfast.)  In tasting, you will note bittersweet chocolate notes, offset by sweet oatmeal.  Roasted malts and coffee are present.  Coffee is stronger on the palette than in the nose.
Ingredients —
Hops — Centennial, Cascade
Malts — Pilsner, Oat, Smoked, Caramunich, Brown, Pale Chocolate, Chocolate
Extras — Roasted Barley, Flaked Oats, Gourmet Coffee
Yeast — Ale
7.5% ABV
Availablity — 750 ML Bottles, Rare Draft Offerings.  Tapped last night 3/8 at Brick Store Pub!  Also, I believe The Porter is also tapping it!