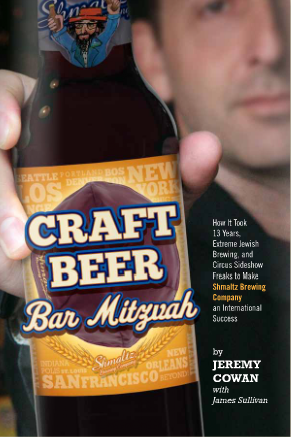 Jeremy Cowan, Founder of Shmaltz Brewing Company (and the Coney Island Brand) just authored a new book – "Craft Beer Bar Mitzvah".  It's basically a memoir on the founding of Shmaltz Brewing, and it's growth since it's inception 13 years ago.
From the press release:
Shmaltz Brewing Company was awarded the gold medal for "Best American Craft Beer" and the overall "Best in Show" by Beverage World Magazine, 2010.  Established by Jeremy Cowan in San Francisco in 1996 with the first batch 0f 100 cases of He'brew Beer bottled, labeled, and delivered by hand, Shmaltz has sold over eight million bottles of beer to date.  Along with their acclaimed line of He'Brew Beers, Shmaltz introduced its sidewshow-inspired Coney Island Craft Lagers in 2007.  Shmaltz Brewing beers have appeared in such distingushed media outlets as The New York Times, CNN, Beer Advocate Magazine, NPR's "Weekend Edition," and The Onion.
The book will be available online soon, and Jeremy will be making appearances and book signings in Atlanta.  Stay tuned.