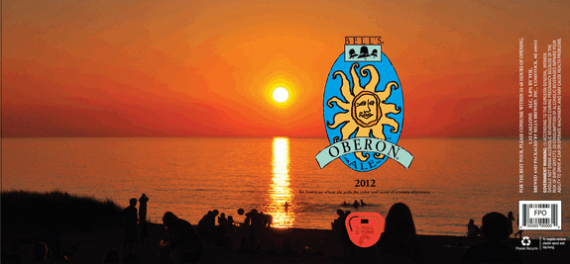 First and foremost, Bell's Brewing's summer seasonal- Oberon will be released on March 26th, 2012.  Get ready for Spring. New keg can artwork appears above.
The brewery's $52 million dollar expansion is moving along nicely.  The new brewery should be open by May, 2012. From Bell's:
Our $52 million construction and expansion is coming along here in Galesburg. Our brewing vessels have been unwrapped and the spent grain silo has been assembled. Crews are busy assembling all the piping and wiring necessary to get our new 200-barrel brewhouse up and running. Local woodworkers are also busy working on the handrails, banisters, front entrance and many other details for the new addition that will compliment existing features at the Eccentric Cafe in downtown Kalamazoo. The lumber they are working with is locally grown as well. We anticipate opening our new brewery in May.
About Oberon: 
Bell's Oberon is a wheat ale fermented with Bell's signature house ale yeast, mixing a spicy hop character with mildly fruity aromas. The addition of wheat malt lends a smooth mouthfeel, making it a classic summer beer.
Style: American Pale Wheat Ale
Availability: 12 oz bottles, Draft. Mini-keg cans. (Chubbies)
Arrival: Late March, 2012 (Summer Seasonal)
5.8% ABV