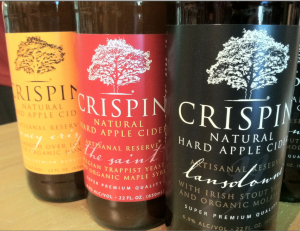 I have to say this before I get into this post.  Put your beer geekiness aside for a minute.  Bring it back by the end of the article.  We are going to be talking about ciders here.
I got a minute this week to sit down with Joe Heron, President of Crispin Ciders.  2011 marks a year of big expansions for the cider company, in both distribution and production.  Ciders don't always get the beer geek people excited.  What Crispin is doing is a bit different from your average cider.  They are game changers.  We are talking the use ale yeasts, unique adjucts, and barrel aging. Yes, barrel aging.
Something I learned from Joe is that the art of cider is both easy and hard.  You need a lot of apples. Much like beer brewing, the better ingredients the better the product.  Apple & pears used in Crispin's ciders come from Washington state.  They have the most sophisticated cold storage in the United States. (Why you can get apples year round.)  6,000 gallons of juice come to Colfax, California at a time, they first started with 50 gallons.  Ideally, cider is made from cider apples for their fermenting qualities, unfortunately they are rare & expensive.  Culinary apples (for eating) are used the cider these offerings. Lots of Granny Smith.
After the juice is blended, a white wine yeast is introduced to the juice and the process is of cidering is born.  The yeasts could ferment to nearly 15% abv, but is suspended at 10%.  In the U.S., cider can not be higher than 7%, so fermentation has to be closely monitored.  Cider carbonation comes from tank fermentation and is typically 1/2 the gas level of beer.
Fox Barrel Ciders are quite unique, in that it's cider with a little bit of craft brewing thrown in.  For instance, Lansdown is brewed with an Irish dry stout yeast & molasses.  The Saint uses maple syrup.  Honey Crisp uses organic honey.  Coming soon, ciders aged in whiskey barrels and red wine barrels. In this barrel aged series we will see The Jacket, a blend of 4 ciders including The Saint & Landsdown, wild fermentation apples & Gravenstein apples: aged in Jack Daniels barrels.  Desert Noir will be aged in both Jack & red wine barrels.
By the end of spring, Fox Barrel will be in 30 states, with an annual output of 30,000 barrels. (Equating it to beer output.) Joe tossed out a few facts about cider in the states.  Cider makes up about 1% of alcoholic sales in the US.  Americans drink more non alcoholic beer than cider.  In other countries such as the United Kingdom for example, cider consumption is in the neighborhood of 17%.   American patriot John Adams mentioned in a few writings he started every day with a pint of cider.
Crispin Ciders literally meld ciders and some of the most exciting aspects of craft brewing.  Try something different. <Crispin Ciders>