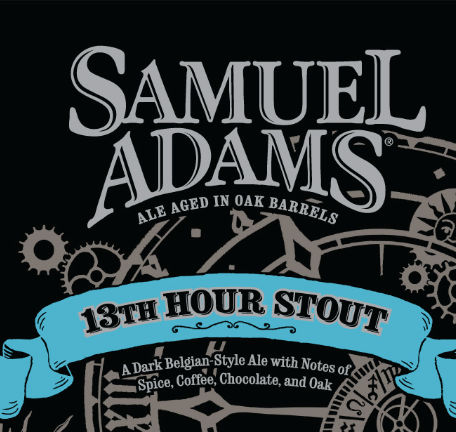 A new edition to Sam Adam's Barrel Room collection is 13th Hour Stout.  Sam Adams Barrel Room series features small-batch, experimental brews.  Each of the beers tout the use of an experimental yeast/bacteria strain that the brewery developed called "Kosmic Mother Funk."  The beer is then aged in Eastern European barrels used for making brandy.  There are currently 3 beers in the series – New World Tripel, American Kriek, and Stony Brook Red.
Label:
The 13th Hour is the Witching Hour, AND A TIME WHEN STRANGE BREWS CAN OCCUR.
With 13 ingredients, we combined the roasted chocolate and coffee notes of a stout with the complex spicy character of a Belgian-Style ale aged in oak for a dark, robust, and bewitching brew.
One of our brewers' favorite places to experiment is in the barrel room at our Boston Brewery.   It's here that each of our Samuel Adams Barrel Room Collection brews was born.
Style: Imperial Stout (Belgian)
Availability: 25.4 oz bottles, corked & caged. Limited availability.
Arrival: Unknown, 2011.
9.4% ABV