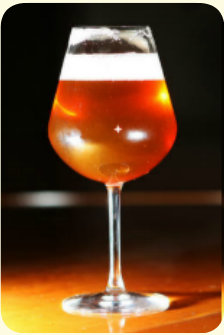 Jocelyn "Jay Cee" Cambier hails from France.  He'll be the first to tell you that Brittany (where he was born) drinks more beer than wine.  In 1987 he joined the wine business, becoming a professional wine taster.  In 2007 he started tasting beer which as he puts it – "changed my life."  For the past 4 years his life has been about beer.  He's even a beer importer now.  What Jay Cee found to be lacking was glassware that truly accentuated the tasty beer inside it.
The road to The Better Beer Glass started with a massive lineup of beers of every style imaginable, lots of glassware, and a thirst.   He and his associates compared styles and glassware to see which truly showed off the beer.  The winning glassware might surprise you.  A burgundy glass, and a champagne flute.
Combining the two glass styles, this Better Glass was born.  Each glass is handblown in France in one piece.  No soldering.  Designed from the ground up to stimulate the aroma, nose and bouquet of the beer.  The wider base allows you to swirl and arose the beer without splashing.  Jay Cee says the glass changes the whole sensory experience of drinking beer.
A big benefit for retailers – the glasses are dishwasher safe.  Lasting around 2,000 cycles.  Each glass has a 4 point star etched at the 4 oz mark, right where there beer & air meet at the deepest part of the glass.  A case of 6 runs $36. [Glass4Beer]
Update: Now available on Amazon.