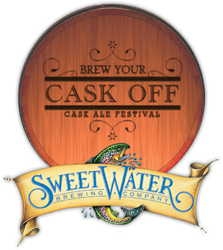 SweetWater Brewing's 2nd Annual Brew Your Cask Off was this past weekend, and for the second year in a row, one hell of time.  Rain couldn't slow down this even, with casks going empty even faster than last year.  Without further ado, here's your winners and a couple of pictures by yours truely.
First: Final Gravity Home Brewers – 'Lika-Titi-Coco Porter"
Second: The Porter Beer Bar  – "The Sch'it"
Third: Fontaines "2 Pump Chump"
People's Choice: Cypress Street –  Pumpkin Porter.    Second Year Peoples Choice in a row!
Congrats to all! The top 4 casks will be re-created by SweetWater Brewing and appear at 420 Fest April 15-17, 2011.