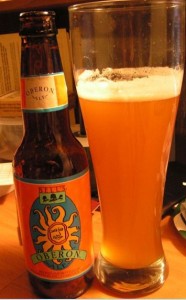 Not even a year later and Bell's Oberon has quickly become a favorite in Atlanta.  This summer seasonal by Bell's brewing is back on the shelves just in time for warmer weather.
To be perfectly honest, I would drink any style of beer, any time.  Yet, there are just some beers that really go well sitting outside on a sunny afternoon.  Bell's Oberon definitely has sunny day appeal.  Oberon is an American Wheat Ale, with a light, fruity taste, and a great spicy backbone.  Wheat ales are typically unfiltered, with wheat flavors that can linger into the finish.  American wheats are different from German Hefeweizens.  Stylistically, you won't find banana or clove, just floral/citrus, wheat and noble hops.
Tasting notes: Think fresh oranges.  Lemon zests.   Nice bready malt tones. Sweet in palette and finish.  It's drinkable & refreshing.   A great warm weather beer.
Hops — Saaz (A noble hop. German in origin)
Availability — Summer seasonal — March — October.  12oz/6pks, 5 liter Mini Kegs, Draft offerings.
5.8% ABV
Updates!  Release Parties!
3/31 – The Porter Oberon Release Party!  Keep the glass while supplies last. 6 pm, 3/31
3/31  – Free Bell's Tasting at Octane Coffee w/ Hop City.  Free tastes of Oberon, and 2 others
4/3 – Midway Pub Release Party! Games, Giveaways, Oberon! 1-4 pm  (Midway in East Atlanta)