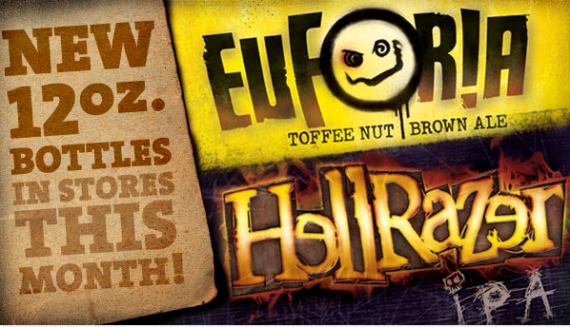 Duclaw Brewing will be debuting HellRazer & Euphoria in 12oz bottles…
HellRazer
A medium-bodied, golden IPA that gets in your face from first sweet sip to crisp, dry finish with the exotic tropical fruit flavors and aromas of New Zealand Motueka hops. With just enough malt character to keep the aggressive hop presence in check, and an unruly 7.5% abv, this brew was seemingly born to kick ass. And RAZE HELL!
EuForia
A creamy, medium-bodied, dark brown pint of liquid bliss that combines a creamy mouthfeel, smooth drinkability and a relaxing 5% abv, with a jubilant swirl of caramel, almond, and toffee flavors to leave you in a state of ecstasy.
Arrival: February, 2012