Topic Archives:
Two Turtle Doves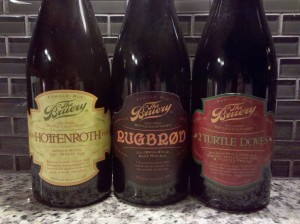 In early October, The Bruery (Placentia, CA) launched in Atlanta.  This family run brewery (last name Rue — to make Bruery) turned out to be well received.   The first offerings here were Saison Rue, Orchard White, and Autumn Maple.  Those looking for Autumn Maple for Thanksgiving were too late, it had come and gone.
Want more? Here are three more offerings for your tastebuds.  One brew is particularly special for Christmas.  Lets start with the lowest ABV and work up.
Hottenroth — 3.1% ABV, Berliner Weisse.  Belgian Style Tart Wheat Ale.  Berliner Weisse is a unique style that hails from Berlin, Germany and is a sour wheat ale.  Berliner Weisse was first brewed in northern Germany in the early 16th century and was extremely popular.   At one point it was produced by 650+ breweries.   Now, the Berliner Weisse style is so protected in Germany, only 2 breweries can make it.  Ok, its barely more alcoholic than water, but don't let that stop you.  Flavor is everything, and the style isn't easy to come by.  This American rendition was brewed in memory of Patrick Rue's grandparents Fred & Sarah Hottenroth.  (7.99, Hop City)
Rugbrod — 8%, Dark Rye Ale.  This beer is influenced by Danish rye bread "Rugbrod" (pronounced roogbrood.)  Very malty, as these beers are popular around Christmas in Demark.  According The Bruery it's a blend of Rye and JuleByrg beer.  (Danish strong Christmas Ale.) Expect bready, caramel malts. (8.99, Hop City)
Two Turtle Doves — 12%, Belgian Dark Ale.  Two Turtle Doves is the second edition of The Bruery's Christmas Ales.  (Partridge in a Pear Tree being the first.)   Doves touts ingredients such as pecans and cocoa nibs.   Flavors are nutty and chocolaty.  Suitable for aging 10 years (after the release of 12 Drummers, Drumming.)  (10.99, Hop City)
Available in 750 ml champagne style bottles.  Hop City is the first to receive.  Green's is reported to have it, but I have not seen it yet.  Tower and Total Wine unverified arrival dates.