Topic Archives:
Tallgrass Explorer Series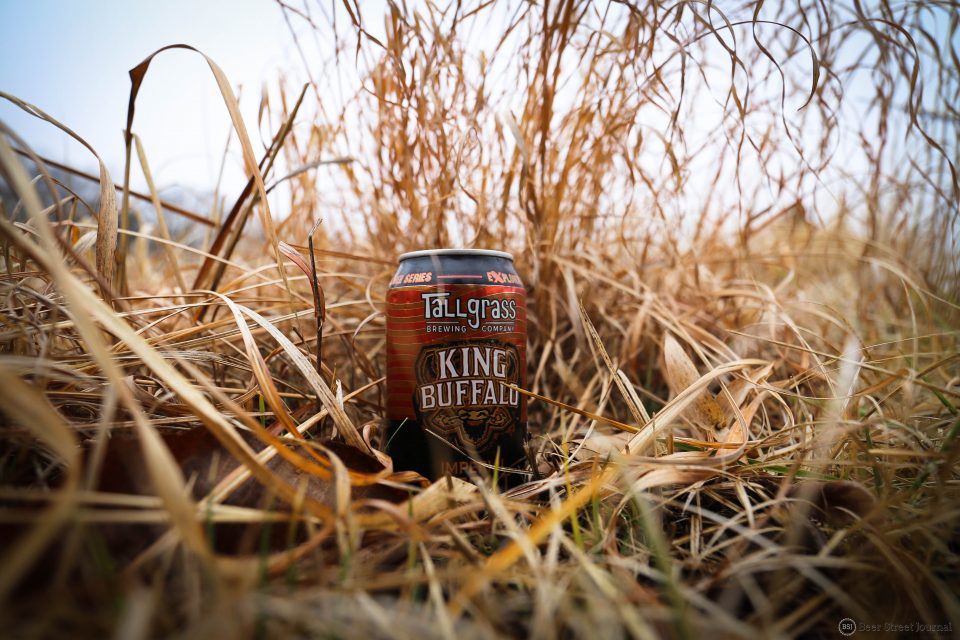 Tallgrass King Buffalo has kicked off the Manhattan, Kansas based brewery's new year – a big imperial stout.
The brewery is most well known for Buffalo Sweat, an oatmeal cream stout. Now the "king" of buffalos, has joined the brewery's Explorer Series. Tallgrass King Buffalo is an 10.5% alcohol by volume imperial stout, with intense coffee and chocolate flavors.
Big Stout. Small Can.
Don't let this little 12 ounce can fool you. What is inside is big and bold. If you love Buffalo Sweat (as much as we do), you have a home here. Scratch the milk sugar for brown sugar, and up the flavor of coffee and chocolate. King Buffalo drinks like a meal. The brewery said it best – "One Buffalo to Rule Them All."
Kicking off the 2017 Explorer Series is King Buffalo, a 10.5% imperial stout. Sitting on a throne of dark roasted grains, King Buffalo is loaded with the same intense coffee and chocolate notes of our original Buffalo Sweat, but it's deeper, darker, richer and more complex.
Tallgrass King Buffalo is now our packs of 12 ounce cans, from January until March, 2017.
Style: Imperial Stout (w/ Brown Sugar)
Hops: Columbus, Cascade, Northern Brewer
Malts: 2Row, Vienna, Victory, C60, Wheat, Chocolate Malt, Roasted Barley, Oats, Dehusked Carafa III
Availability: 12oz Cans, Draft.
Debut: January, 2017
10.5% ABV
Tallgrass Key Lime Pie
Our first draft-only Explorer Series release, Key Lime Pie is an American sour blonde ale brewed with Sorachi Ace hops, a Japanese variety with a unique lemon-lime citrus character. Also added in the brew are lactose and lime peel, which give the beer a complex sweet-tart interplay and a bold aroma of the beer's namesake. The addition of lactobacillus gives the beer a slightly sour edge, and a generous malt bill provides a solid foundation with just a hint of graham cracker crust.
Style: American Sour/Wild Ale (w/ Lime Peel
Hops: Sorachi Ace
Availability: Draft only
Release: July, 2016
Article in progress