Topic Archives:
Stone Odd Year Releases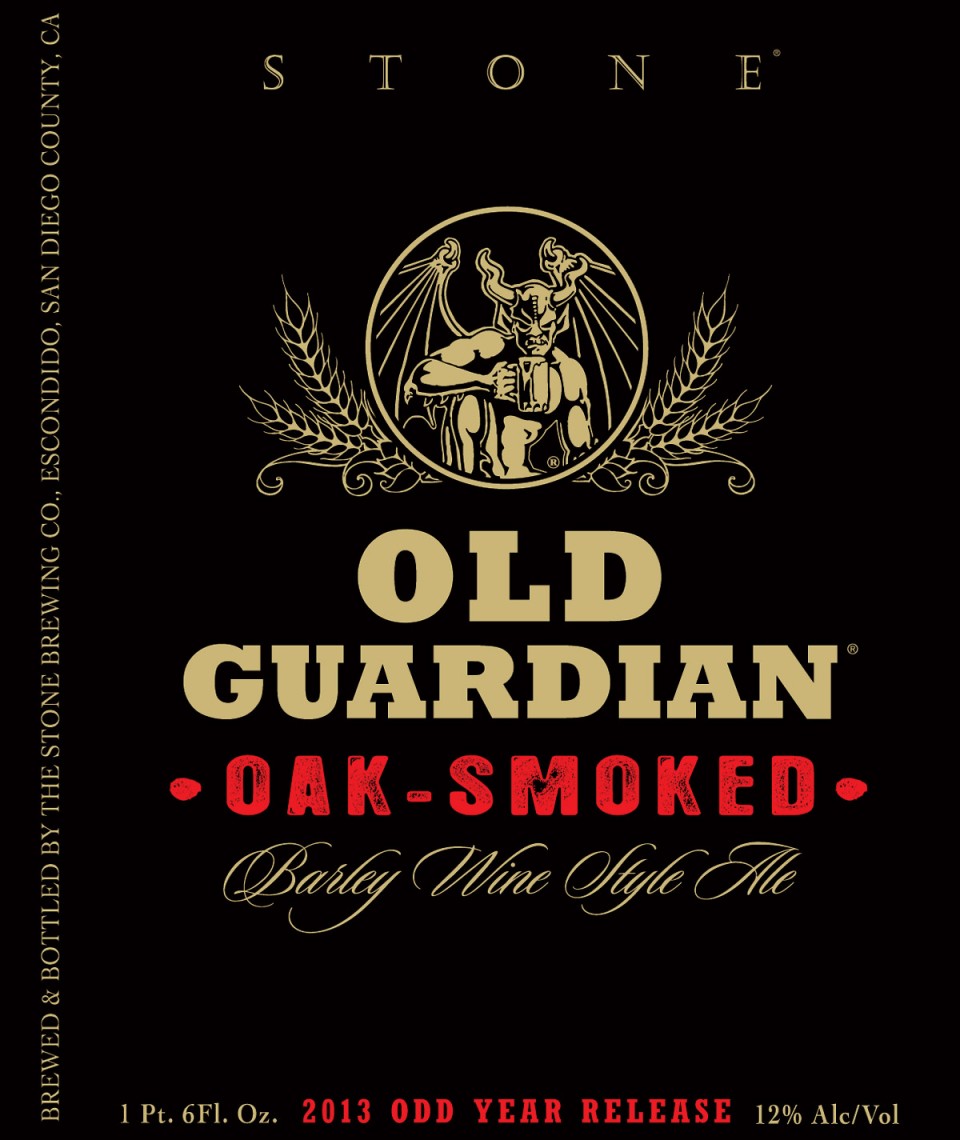 2013 marks another odd year, and that means another Odd Year Release for Stone Brewing Co. A few years ago, the brewery decided to release a special take on a couple of tried and true favorites for odd years. That resulted in Belgo Anise Imperial Russian Stout, and Old Guardian Belgo Barleywine. The newest treatment for the coming odd year is Old Guardian Oak Smoked Barleywine, featuring German smoked wheat malt. Greg Koch (Founder) writes you a letter on the bottle.
It's the Friday after Turkey Day. In the US anyhow. Not here in Belize, but I had turkey yesterday all the same. Raised in the Belize countryside by German Mennonites no less. It was delicious. Gotta respect those who are focused on doing things the right way, which more and more in this world often means with less technology rather than more. The bananas are better here, too. Mostly because they're picked ripe and ready for local consumption, ratherthan pre-ripe and green to ship off to the US and other far-flung countries only to be ethylene-gassed once they arrive to finish off the ripening process. Sudden flashback of when we visited our friends James & Martin @Brewdog in Scotland for our collaboration beer a few years ago called bashah (don't think I ever spilled the beans formally before that the name is an acronym for black as sin, hoppy as hell). We had dinner at a great little restaurant in Aberdeen that historically was a banana-hanging warehouse. Later, they ended up buying the place. We actually shot a really cool video: [link) Back to the moment and Belize.Just finished a Crime. Great way to start the last night here. Now, as tradition dictates for the OG label, I'm having some 2012 Stone Old Guardian Barley Wine. Sitting at a beach bar & sharing w/John & Barbara Cheek from Oakhurst (Decatur, GA). They regularly enjoy Stone IPA at their local haunts, Steinbeck's and The Marlay. Got to know them a little today as we were on the same little boat going out to snorkel with the sea turtles. Yes, a bit 'touristy' for me, as I typically head a little more off the beaten path, but hell, it was kinda cool swimming with them all the same. Swimming in the ocean made my hair quite scraggly lit's still rather mucked up from the whole red-hair fundraiser we did back in August), and with the headband I picked up two days ago at a local shop, I've gotta admit that I'm looking a bit laughably trustafarian. It's like I became an overnight pseudo-beach bum. Heh, if only. Not really my thing though, honestly. I'm a bit higher strung than that. The driven/agenda type. Gotta change the world, rather than watch it float by. But then you knew that. Save now. It's been a 'float' week. Nice to visit the float lifestyle every once in a while, but I wouldn't want to live there. Cracked a Stone Enjoy By 12.21.12 IPA just now. That's a beer to encourage the 'watch the world float by" if there ever was one.The aroma is certainly suggestive of that lifestyle, now isn't it? I'll leave it at that. Loving it. Brought two cases of assorted 22oz & 500m1 bottles on the trip. The 12.21.12 is the next-to-last, w/Stone Sublimely Self-Righteous Ale bringing up the rear. So to speak. It's actually not legal to bring in beer to this country as their beer laws are rather protectionist. That serves no one, except a few. Nonetheless, I swallowed my bubbling outrage as I learned this at Customs on my way in and politely asked to speak with a supervisor. I said "Hi, I'm Greg and I own a small brewery in the US, and) like to travel w/beer to share w/people I meet. I certainly don't mind paying a duty." He surveyed me, then the beer, then me again and decided that my two cases "didn't represent a commercial threat" and calc'ed out a modest duty for me to pay. I did so gladly. Now I'm at the end of the visit, and reflecting on the fact that all went quite nicely thank-you- C. very-much. Thankful for the brief respite. Time to get back to it next week. Lots to do. Lots to do.
Style: Barleywine (Smoked, Oak Aged)
Availability: 22oz bottles, Draft.
Arrival: TBA
12% ABV