Topic Archives:
Ska Seasonal Stout Series
We here at Beer Street Journal were just informed that the 4th edition in Ska Brewing's Seasonal Stout Series will be Estival Cream Stout. Brewed with dried orange peel, orange blossom honey, with oak. Vernal Minthe Stout, the third release in the series, arrives tomorrow (March 20th) for the Spring crossover.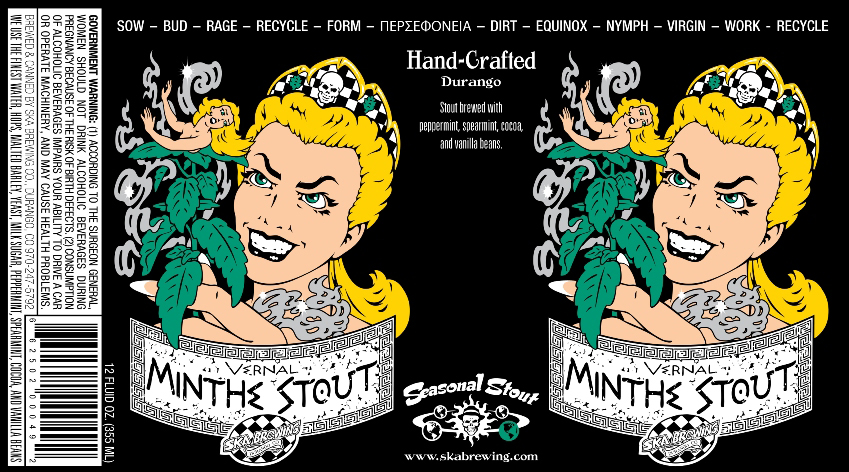 Ska Brewing will release the third edition in their  Seasonal Stout series: Vernal Minthe Stout on Wednesday. The stout brewed with peppermint, spearmint, cocoa and vanilla beans. The beer will hit shelves on March 20th, the date of the spring equinox.
"Spring is a good time to brew up a reward for making it through winter, said Ska Overlord of Brewing Operations Bill Graham. "The Vernal Minthe Stout is a treat: sweet, but with great roasted and chocolate notes for balance–and a peppermint note that reminds me of spring. I bet I'm not the only one who could use a reward about now."
Look for the next announcement in June, corresponding with the Summer Equinox.
Style: Stout (w/ Cocoa Nibs, Peppermint, Spearmint, Vanilla Beans, Milk Sugar)
Availability: 12oz cans
Arrival: 3/20/13
?? ABV
Set to join Ska Brewing's seasonal stout series is Vernal Minthe Stout. This edition blends chocolate, mint, and vanilla together in one flavorful can.
Style: Stout (w/ Cocoa Nibs, Peppermint, Spearmint, Vanilla Beans, Milk Sugar)
Availability: 12oz cans
Arrival: TBA
?? ABV