Topic Archives:
Second Self Manic Pixie Dream Series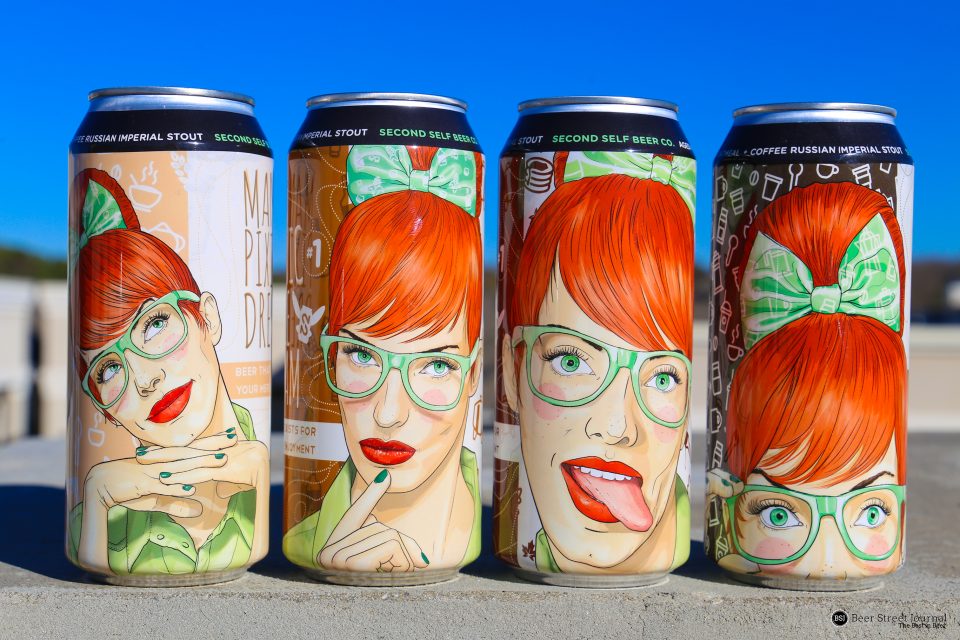 It's hard not to judge a book by it's cover. The same goes for beer. As beer gets infinitely more creative, so has the artwork that goes along with it. Atlanta's Second Self Beer didn't just brew a great beer and slap a label on it. Manic Pixie Dream is a "next level" kind of collaboration.
This story starts a bit before the beer was brewed. Brewery co-founder Jason Santamaria has been a fan of Keith P. Rein's artwork for a while. The guy is best known for the Slaughterhouse Starlets Series. Basically, he takes famous females like Winona Ryder or Taylor Swift and juxtaposes them into a murdery, Dexter-like composition. When Santamaria married his wife Liz, he noticed Keith P. Rein to be the dominant in each other's art collection.
All Santamaria needed was a good reason to reach out to is favorite artist. As it turns out, Rein has always wanted to do a piece for a beer can. Manic Pixie Dream was born.
The Second Self team went big when it comes to the beer. The base is an 11% alcohol by volume Russian imperial stout, that has been aged in Blis barrels. The mere mention of Blis will make a beer fan salivate. Blis Gourment is a Michigan based company that ages maple syrup in bourbon barrels. After the maple syrup is drained, what you have left is a playground for one hell of an awesome beer. As an added bonus, Second Self infused locally roasted Batdorf & Bronson coffee.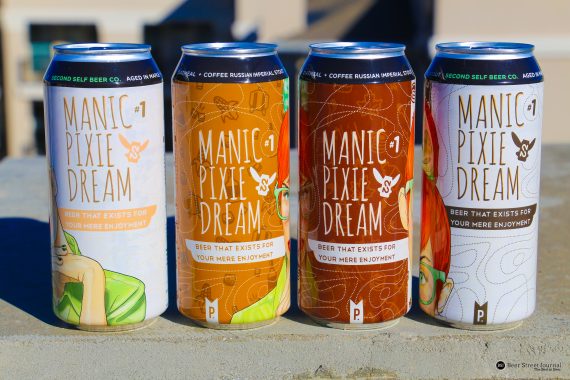 Santamaria and Rein weren't satisfied with just creating one label. Especially with a beer as complex as this one. Blis barrels are hard to come by, and recipes like this one are expensive. Ultimately, this beer is in short supply. Created simply for your own happiness. A bit like the Manic Pixie Dream Girl movie trope.
Coined in 2005 by film critic Nathan Rabin after watching Kirsten Dunst's character in Elizabethtown, MPDG is a  "bubbly, shallow cinematic creature that exists solely in the fevered imaginations of sensitive writer-directors to teach broodingly soulful young men to embrace life and its infinite mysteries and adventures." Other examples include Kate Hudson's character in Almost Famous, Natalie Portman in Garden State, or Marilyn Monroe in Some Like it Hot.
With Manic Pixie Dream in mind, Rein drew four different iterations of Pixie. Each label breaks out a component of the beer – Coffee, Maple Syrup, Bourbon, and Grains. Besides the incredible artwork, the beer is fantastic. Truly a sipper, where the each of the components starts to pop as the beer warms. After the barrel-aging, you're drinking at near 14% alcohol by volume beer.
Second Self is holding a special release event on February 26th where attendees can purchase all four cans. The brewery is planning on making Manic Pixie Dream a series going forward, with an evolving list of styles (including a sour/wild ale).
This is one of the few times we have found ourselves torn between the beer or the artwork that's more exciting. A few more sips and we might just decide.
Style: Imperial Stout (w/ Coffee. Barrel Aged. Maple Syrup Bourbon.)
Availability: 16oz Cans. Brewery Only.
Debut: 2/26/17
13.9% ABV