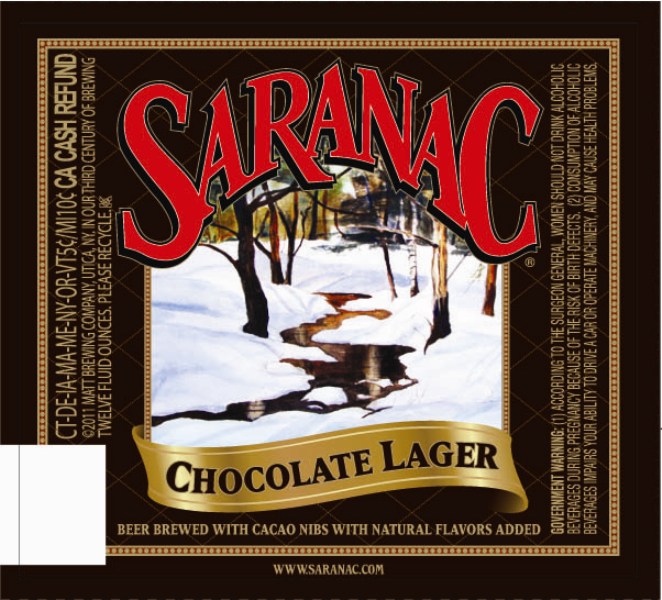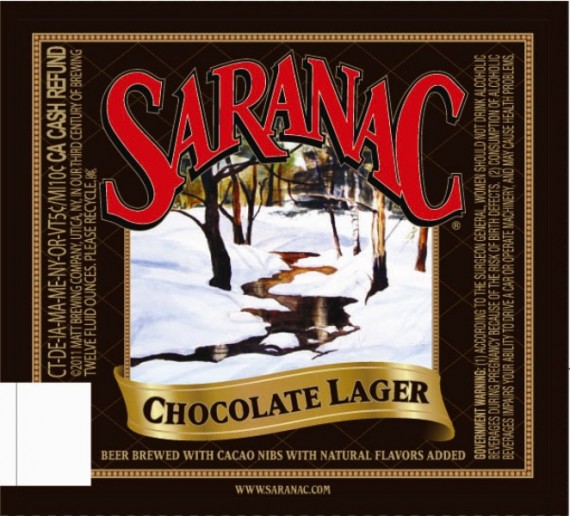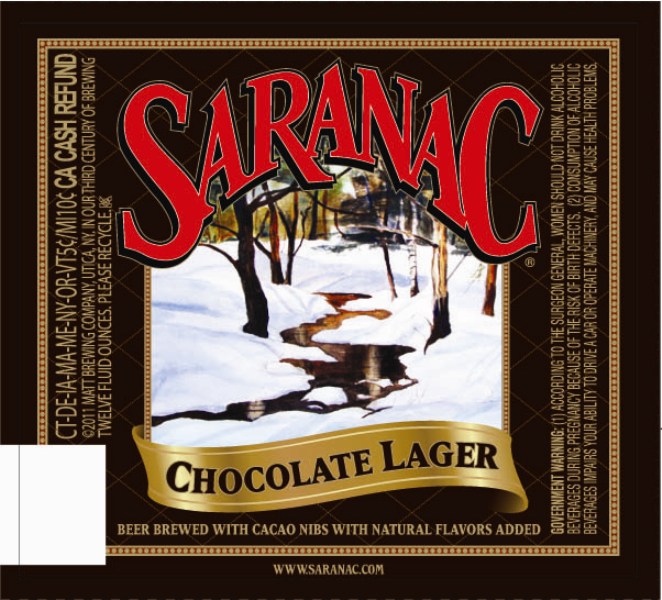 UPDATE: A reader has pointed out a correction: Chocolate Amber and Chocolate Lager are 2 different beers.
It took some a bit of focused effort to sort through the Saranac portfolio to find sort out last release dates for seasonals.  Chocolate Lager & Big Moose Ale look to be back on the calendar again.
Chocolate Lager IS different from Chocolate Amber Lager.
Saranac chocolate lager is a sinfully delicious deep amber lager made with the purest cacao from Belize.  Our brewers looked far and wide for highest quality cacao to create a smooth chocolaty taste that only comes from the most exclusive cacao plants.  We use the roasted seeds of these decadent plants and perfectly paired them with caramel malt and German Hallertau hops to create a malty chocolate sweet flavor.  You'll love savoring this beer with your holiday foods or on its own for a delicious treat. 
Style: Dark Lager
Hops: Hallertau
Malts: Caramel
Cacao Nibs
Big Moose Ale is an American Pale Ale headed back to shelves again soon.  According to Saranac, Big Moose last saw bottles in 2009.
Saranac Big Moose Ale is the perfect brew for a cold Adirondack winter night.  This full-flavored ale is  triple dry hopped with specialty citra, centennial and cascade hops to give you a vibrant citrusy hop aroma.  The bold hop character is balanced by malt sweetness from English pale and caramel malts to produce a lusciously crisp flavor. We don't call it "Big Moose" for nothing!
Style: American Pale Ale
Hops: Citra, Centennial, Cascade
Malts: English pale, Caramel