Topic Archives:
Saint Arnold Bishop Barrel Series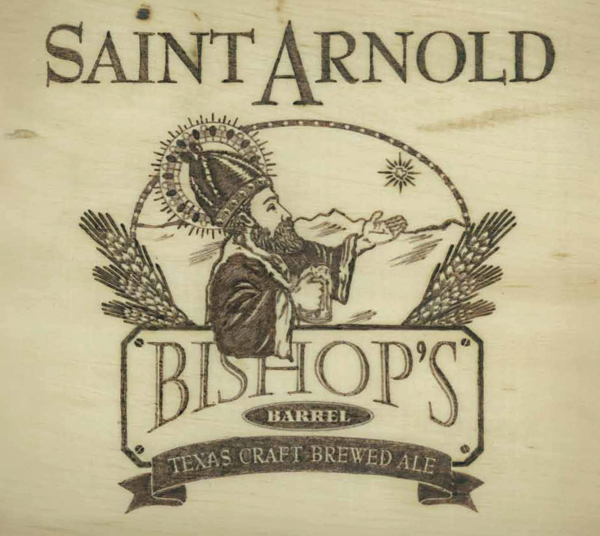 Saint Arnold Bishop's Barrel #11 is now available. The base beer, Endeavour, Saint Arnold's double IPA, has been aging for four months in Smooth Ambler gin barrels. The brewery calls it "Gindeavour".
Saint Arnold Bishop's Barrel #11 started its journey in April when it hit the gin barrels. When the barrels were pulled the hops were a little too muted, so it was blended at a ration of 20% fresh imperial IPA.
It pours a beautiful copper color with an off white head. The nose is a spicy mix of hops, wood, juniper and a hint of bourbon. There is a bitter up front that is balanced with a nice malt backbone throughout. Piney, resiny hops balance with the juniper/gin character. There is a warming alcohol note in there too. The finish is focused with the hop bitter, malt and gin character all giving a pleasant linger.
Saint Arnold Bishop's Barrel #11 is available in 12oz bottles, and draft in very limited quantities.
Style: Imperial IPA (Barrel Aged. Gin)
Availability: 12oz Bottles, Draft.
Release: 9/21/15
10.1% ABV
Saint Arnold Bishop's Barrel No. 5 officially hits bars and restaurants starting today. It has been years since this recipe has hit glasses. You've had Bishop Barrel No. 5 before, it was once released as Divine Reserve No. 4.
Bishop Barrel No. 5 is a wee heavy scotch ale brewed in December 2012. It has spent the past nine months aging Old Forester bourbon barrels.
Saint Arnold describes the flavor: "The bourbon barrel contributes vanilla, cinnamon and touch of rich earthy pipe tobacco, which mix with an alcohol warmth that adds to the rich creaminess. "
Style: Scotch Ale (Barrel Aged)
Availability: 12oz bottles, Draft. Limited
12% ABV, 19 IBUs