Topic Archives:
New Holland High Gravity Series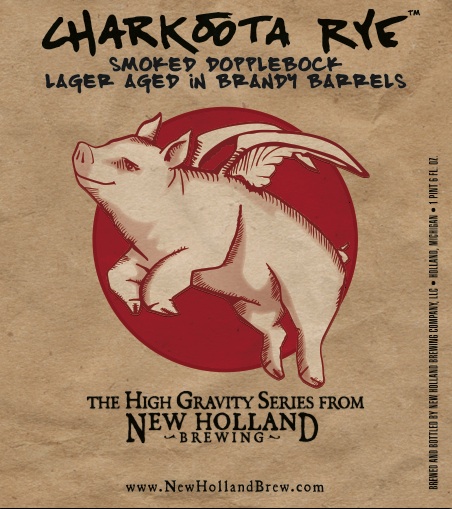 New Holland Brewing is now shipping Brandy Barrel Aged Charkoota Rye. Charkoota is a smoked doppelbock lager. For this edition, the flying pig spent time resting in brandy barrels.  The result? smokey beer with a boozy, fruity complexity. About regular Charkoota:
Charkoota Rye is a Smoked Rye Dopplebock. An homage to all things Pig, including Porkapalooza and the age-old tradition of Charcuterie, Charkoota Rye's malty backbone is derived from a blend of rye and four other malts, including malted barley smoked over cherry wood.
Its smoke-forward body is balanced with tones of deep mollasses and caramel, with a crisp, clean lager finish. Delightful by itself, Charkoota is best served with its succulent counterpart, Pork.
Style: Doppelbock (Smoked, Barrel Aged, Brandy)
Availability: 22 oz bombers, Draft
Released: Late September, 2012
7.75% ABV