Topic Archives:
Midnight Sun Obliteration Series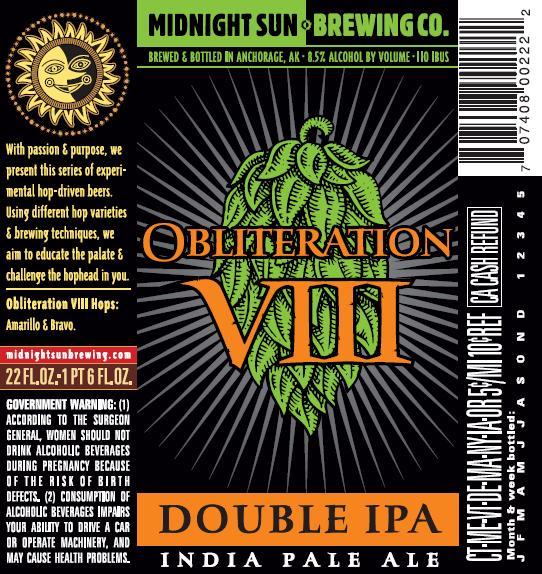 Midnight Sun Brewing (Anchorage, AK)'s Obliteration Series continues with VIII.  Each beer uses different hops and brewing techniques.  This new edition was made available in January in Alaska, and expands to Midnight Sun's 5 other distribution states this month.  (The brewery just started shipping to New York.)  VIII is described as a return to the imperial IPA roots-
Obliteration VIII returns the Obliteration series to its Double IPA roots. This one, however, is MSBC's first beer brewed with hop extract: Amarillo. Dry-hopped with Bravo hop pellets. While bitterness exists, an amazingly high IBU score hits the palate with floral, tropical and citrus properties. Inhale. Behold. Taste. Obliterate your senses with the newest addition to Midnight Sun's Obliteration series.
Style: Imperial IPA
Availability: 22oz bombers, Draft
8.5% ABV, 110 IBUs
Other Obliteration releases include:
Obliteration I Double IPA
Obliteration II Double IPA
Obliteration III Double IPA
Obliteration IV Double Wheat
Obliteration V Double IPA
Obliteration VI Double IPA
Obliteration VII American Imperial Stout
Obliteration VIII Double IPA