Topic Archives:
Long Peppers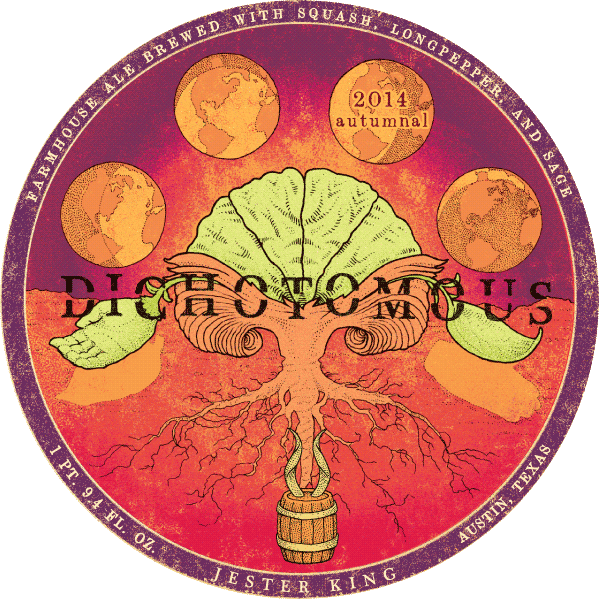 Jester King Autumnal Dichotomous is ready for release. The seasonal driven saison is brewed during the mentioned series, and oak aged until the brewery feels it is ready.
Autumnal Dichotomous (fall saison) is brewed with butternut squash and acorn squash, long pepper, and sage. Head brewer Garrett Crowell smoked the squash and peppers over oak staves.
"I'm very inspired by nostalgia, and the smell of burning leaf piles is perhaps my most nostalgic memory of fall. The subtle smoke and spice character in the beer reminds me of those dim-lit autumn afternoons, running through the neighborhood and the smell in the air."
Jester King Autumnal Dichotomous was brewed in October, 2014, oak aged with local wild biota, and re-fermented long term in bottles and kegs. The beer will be available in 750ml bottles, starting on January 9th. Other seasonal based offerings include Jester King Estival Dichotomous, and HIbernal Dichotomous.
Style: American Wild Ale (w/ Squash, Long Peppers, Sage. Oak Aged)
Availability: 750ml bottles. 3,500 produced. $12.
Release: 1/9/15
4.9% ABV, 19 IBUS
Images provided via Jester King