Topic Archives:
Lawson's Finest Liquids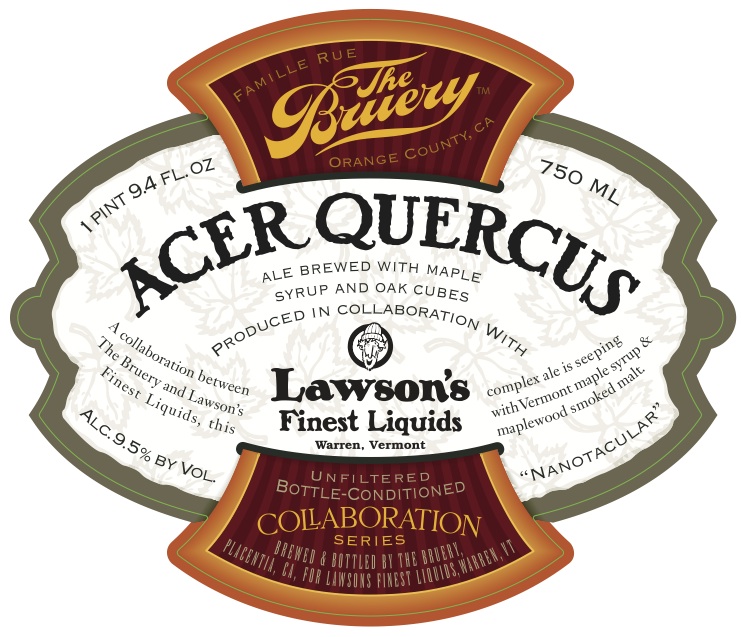 Last Thursday, The Bruery opened up about their current capacity, lineup changes, & their future.  Something I didn't quite understand at the time (and overlooked) was that the title of the email I received was called "Project Quercus Maximus."  Nothing else was mentioned about the peculiar title, but I went with it.  Now this little number has shown up, "Acer Quercus" a collaboration brewed with Sean Lawson of Lawson's Finest Liquids.
Lawson's is a small brewery based in Warren, Vermont.  Every beer is brewed in very small batches, sold in a few select places in the Mad River Valley of Vermont.  Acer Quercus is a collaboration that spans nearly the length of the United States in a maple and oak laden concoction.
A collaboration between The Bruery and Lawson's Finest Liquids, this complex ale is seeping with Vermont maple syrup & maplewood smoked malt.
Maple Syrup & oak cubes. Sounds like a great fall release, or a pancake pairing.  Oak cubes are literally little cubes of oak available at different toast levels (how bold the oak flavor expressed.)  Vermont produces some of the best maple syrup in the world.
Style: Brown Ale
Availability: 750ml champagne style bottles.  Areas TBD
Cellar? Yes
9.5% ABV
Lawson's has an award winning small batch (less than 400 bottles) annual release each year around April.   Sounds like Acer Quercus might have a little in common. Label below…