Topic Archives:
J.W. Lee's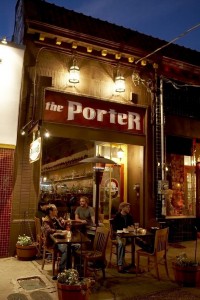 The Porter is turning 2! Here's a great reason to get excited.  THE BEER!  Today, September 11, 2010  The Porter Beer Bar in Little 5 Points here in Atlanta will celebrate with an awesome tap lineup.
Quick backstory on The Porter –
Molly Gunn and husband Nick have a love of good beer. Having been to various great beer bars around the country (and working in some too!) Molly and Nick decided it was time to start one themselves. After spotting a empty location in little 5 Points and signing a lease, they got to work. The goal, a bar with great beer and great food. One year later, I would have to say they have accomplished that goal.
Here's the list!
Founder's  Kentucky Breakfast Stout – Imperial Stout, 11.2% ABV.  Coffee, vanilla oak. Amazing
Founder's Canadian Breakfast Stout – Imperial Stout, 9.4% ABV.  Popular KBS in Maple. RARE!
Allagash Blonde – American Blonde Ale, 8.2% ABV.  Limited release. Light fruits. High carb.
Allagash Fluxus 2010 – Imperial Stout, 10.3% ABV.  Brewed with cacao nibs.  Roasty malts, bitter chocolate. Light coffee.
Smuttynose Oak-Aged Triple – 9% ABV.   Oak, sweet notes. Light fruits like pear/apple.
Smuttynose G-Bock – Doppelbock, 9% ABV.  Caramel, toffee, alcohol.  Some plum.
Smuttynose Rougue D'Shire – Flanders Red, 5% ABV.  Sweet & sour.  Lactic, and raspberries. Unique.
Malheur 10 – Belgian Strong Pale, 10% ABV.  Sweet, malty, fruity, boozy.
De Molen Engels – English Bitter, 4.5 ABV.  Sweet malts.  Lemon, citrus.  Biscuit and bread.
J.W. Lees – Moonraker Ale – Winter Warmer, 7.5% ABV.  Notes of cherry, bread. Spicy & sweet.
Podge Imperial Stout – 10.5% ABV.  Sweet roasty malts, raisins, dates, plums. Full bodied. Chocolate.
Etienne Dupont Cidre Bouche Brut 2007 – Sweet French Cider!
Etienne Dupont Cidre Bouche Brut 2008 – Sweet French Cider!
BFM La Douze – American Pale Ale, 6.5% ABV.  Pale malts. Grassy hops, grapefruit and orange.  Crisp.
Petrus Aged Pale Ale – Flanders Oud Bruin, 7.3% ABV.  Sweet malt, light sour fruits, nice carbonation.  Some spice.
There are actually more than  this… some secrets YET to be revealed… More to follow.
The Porter
1156 Euclid Avenue Northeast
Atlanta, GA 30307