Topic Archives:
Goose Island Bourbon County Brand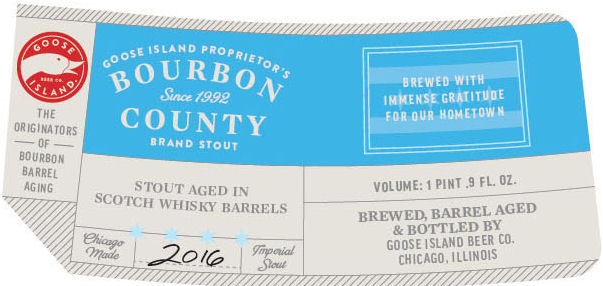 Goose Island Proprietor's Bourbon County Stout is a variant of the brewery's widely known barrel-aged series, and may feature new barrel aging in its 2016 release.
In 2015, Goose Island Proprietor's Bourbon County Brand Stout incorporated bourbon barrel-aging, plus maple, toasted pecans and Guajilo peppers. In the 2014 and 2013 releases, the barrels were rye whiskey.
It is important to note, that according to Goose Island the final barrels/blend for Proprietor's Bourbon County have not been chosen. For now, it seems to be the direction the wind is blowing.
A Scotch whiskey variant is a new spin on this ever-evolving brand extension. Scotch barrels definitely bring a different kind of flavor profile into the mix. Depending on the scotch barrels, the resulting beer could be quite peaty and smoky (Scotch like Lagavulin and Islay). Single malts from producers like Speyside are a lighter, even slightly sweeter flavor.
The Proprietor's release is designed as gift for the Chicago local and loyal. It's meant to be a little weird, and fun. Scotch barrels are a new twist.
That is. If Goose Island uses them.
Variants of Proprietors include:
2014 variant – Made in Rye barrels with Cassia Bark, Cocoa Nibs, Panela and Coconut Water
2013 variant – Rye Whiskey Barrels with Toasted Coconut