Topic Archives:
English Porter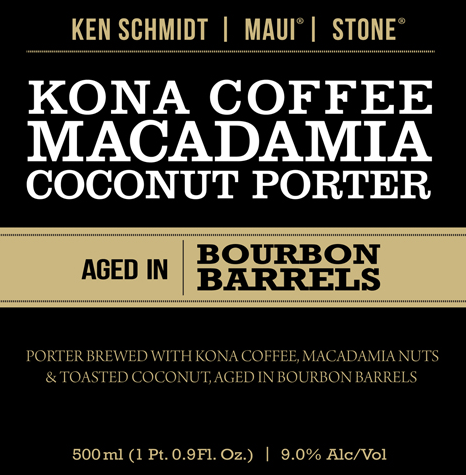 So Stone Brewing announced they are barrel aging.  The "Quingenti Millilitre" coming soon, with this beer kicking it all off.  Kona Coffee Macadamia Coconut Porter.  A collaboration between Maui Brewing, Stone, and home brewer Ken Schmidt.  The beer was released late 2009 in 12 ounce bottles by Stone.  This revamped version finds the coconut porter aging in bourbon barrels
Label:
What a great beer for our very first release of our new 500ml bottle size!  We're reserving this bottle for occasional limited releases of very special beers, and there's no question that the Ken Schmidt/Maui/Stone Bourbon Barrel Aged Kona Coffee, Macadamia, Coconut Porter qualifies as just such.  A while ago, we secretly squirreled away two oak barrels of this beer for a year+ nap and some resulting bourbonification.

It's cool to reflect on the fact that our now-yearly collaborations with local homebrewers are not just an acknowledgement of the amazing homebrew scene here in SoCal, but of our own homebrewing roots.  Steve was quite an accomplished homebrewer when I met him in the early 90's, and I think together we've accomplished quite a lot between then and today!

As our head brewer, Mitch, can attest, this beer was not easy to make (the sheer volume of the fancy ingredients alone was a bear),  and the wait has been long for the barrel-aged version, but worth it.  I look forward to relaxing at home with it — maybe on now, and one in a few more years!  Cheers from me, Steve, Mitch, Ken, Garret and the entire Stone Team!
Availability: 500 ml bottles, corked & caged. 1st edition brewery only release
9% ABV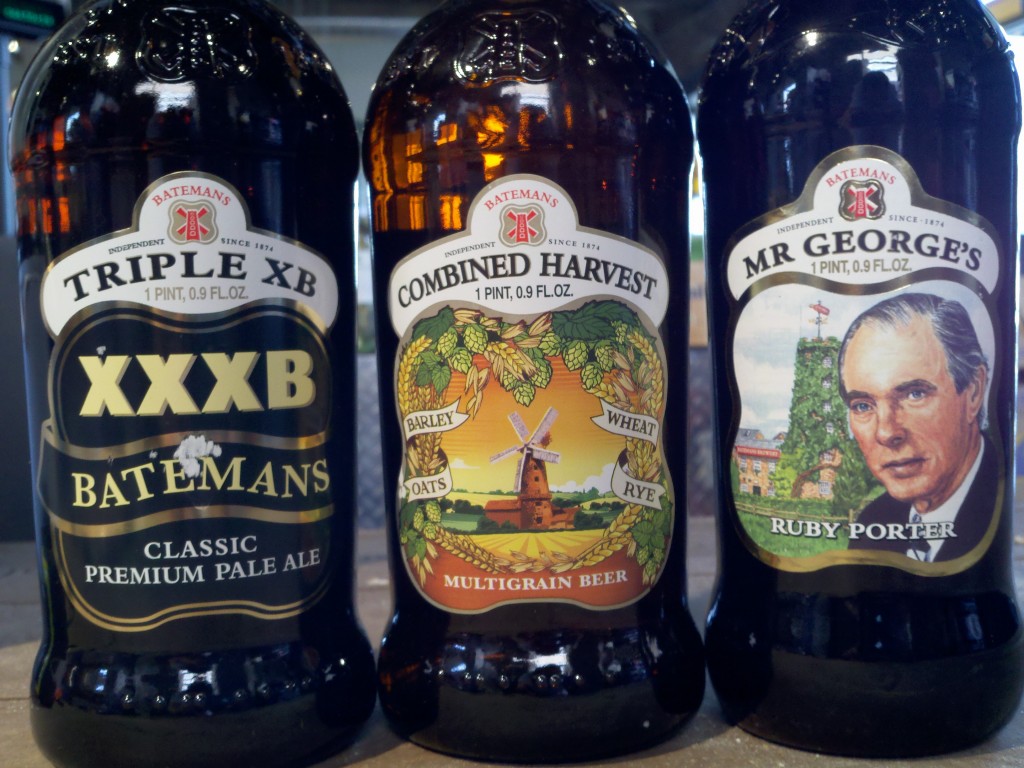 Another brewery has hit the shelves here in Atlanta, and this one's done some travelling to get here. Bateman's Brewing arrives from Wainfleet, Lincolnshire, England with 3 launch titles.
HISTORY: Bateman's got it's start in 1874 when George Bateman and his wife Suzanna sold their farm and rented a small brewery in Wainfleet.  As the history goes – neither one really had much knowledge of brewing.  Suzanna would actually brew on their stove.  A man named Edwin Crowe sold the couple brewing equipment and passed on all his knowledge on the art of beer brewing to the Batemans.  By 1880, the couple had enough money to expand into coach houses nearby.  The brewery sold both beer and bread baked by Suzanna.   In 1921 George's son Harry took over the brewing business upon the passing of his father.  In an attempt to keep his employees working during WWI, Harry added a bottling line across the street and starting shipping beer by horse and carriage.
In 1947 Bateman's switched from river water to the city water due to river pollution.  1950 found Harry's oldest son George (named for his grandfather) joining the brewery.    By 1957 Bateman's was operating more than 50 pubs.  Interestingly by 1960 cask conditioned beer was on the decline and kegged beer was becoming popular.   Beer engines were being removed from pubs and keg taps added in their place.  This presented a problem for Bateman's as they couldn't afford the equipment for brewery conditioned beer.  Enter CAMRA (Campaign for Real Ale.) CAMRA helped bring cask conditioned beer back in vogue again.
1998 Carlsberg Tetley purchased Bateman's freetrade which has helped Bateman's grow continually ever since.
Launch Titles:
Triple XB – Bitter, 4.8% ABV.  Goldings, Challenger, Liberty hops.  Maris Otter Malts.  Classic English bitter.
Combined Harvest – 4.7% ABV.  Combination of brewing worts.  Malted oats, Rye, Barley.  Big Grain flavor.
Mr. George's Ruby Porter – 5% ABV.  Classic English Porter.  Known as Dark Lord in England.  Sold as Mr. George's in the US for trademark conflict.   Multi award winning porter.
Availability: 16.9 Ounce bottles.  Capped.