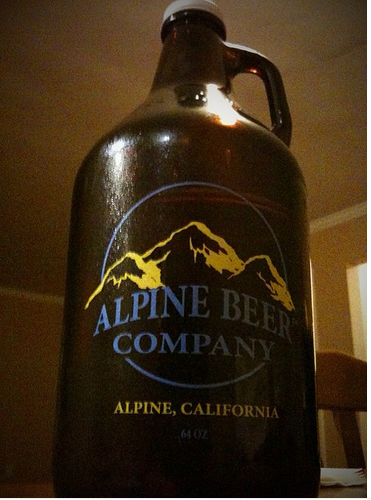 Alpine Beer Company took a stand against those selling their beer on Ebay today.  The fact that bottles of Alpine's Exponential Hoppiness on Ebay annoying owner Pat Mcilhenney enough, but when a growler popped up on the popular auction site, that was the last straw.  He's now threatening to not only ban growlers, but to potentially never bottle the beer again.  The incident lead him to this in a recent newsletter.
You have seen your very last growler of "Exponential Hoppiness" ever to be dispensed.
Since I previously stated if I ever saw a growler of "Exponential Hoppiness" for sale on ebay there would never be another growler sold again. Don't blame me, but you can see who to blame HERE. As for bottles of "Expo" on ebay, I'm seriously considering never bottling it again. This is not just a personal issue, it's illegal. The fact that people drove down from LA to make a quick buck and denying the locals the chance to buy some is also just plain wrong.
So, you can see the timing of the releases listed above. The first two beers were released last week, the next comes out today and the last one comes out tomorrow. That is the most advanced notice you ever receive. Our little operation is focused on supplying the local market with fine beer. If you live in the area you can now get first crack at our releases before they can drive in from points unknown. That's the best I can do for you, my loyal locals.
Obviously this raises a few questions.  First and foremost, once something is purchased from you, how do you control it?  Do you control it?  Isn't that Ebay's job?  Agree or disagree Mcilhenny is one of the first to take  a stand when it comes to this common occurrence.  Will this be the start of a new trend amongst brewers?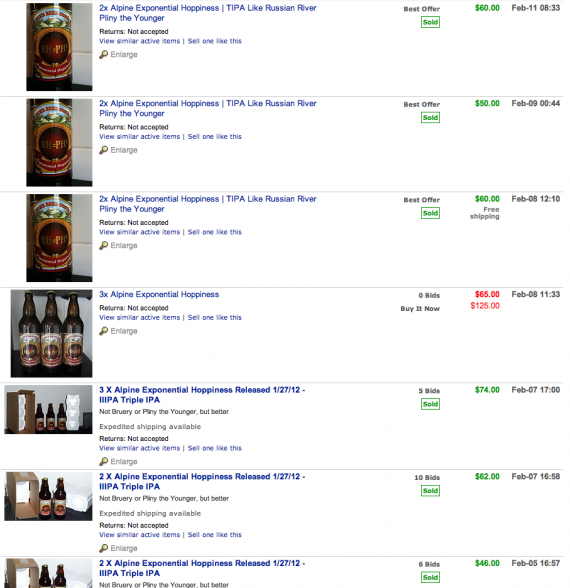 Just a little bit of Ebay ridiculousness.  At last years Dark Lord Day, Three Floyds unveiled barrel aged editions of the Russian Imperial Stout.  The bottles were of course limited, and sold for about   $50 a bottle. This person managed 4 bottles of the barrel aged stout.  Asking $500 dollars a bottle. (Note: The title says 3 bottles. If that's the case, $666 dollars a bottle. Appropriate right?)