Topic Archives:
Duclaw Retribution Series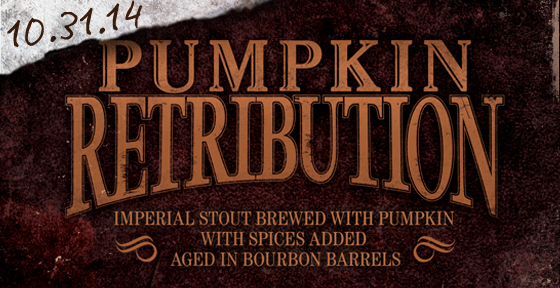 Vintage 2013 of Duclaw Brewing's Pumpkin Retribution drops on Halloween.
The base is the 11.5% ABV imperial stout aged in bourbon. It has been sitting in oak barrels flavored with pumpkin spice for six months, adding flavors of vanilla, cinnamon, nutmeg, ginger, and caramelized sugar.
Bourbon Barrel-aged Imperial Stout with rich aromas of espresso and dark chocolate, and smooth roasted malt flavor, aged for 6 months in charred oak bourbon barrels with pumpkin spice to add the natural vanilla and caramelized sugar flavors of the wood, and the cinnamon, nutmeg, and ginger essence of the spice to the beer.
On tap at Duclaw's various locations on October 31st.
Style: Imperial Stout (w/ Cinnamon, Nutmeg, Ginger. Barrel Aged. Bourbon)
Availability: Draft only. October 31st
11.5% ABV