Topic Archives:
DuClaw Off the Line Series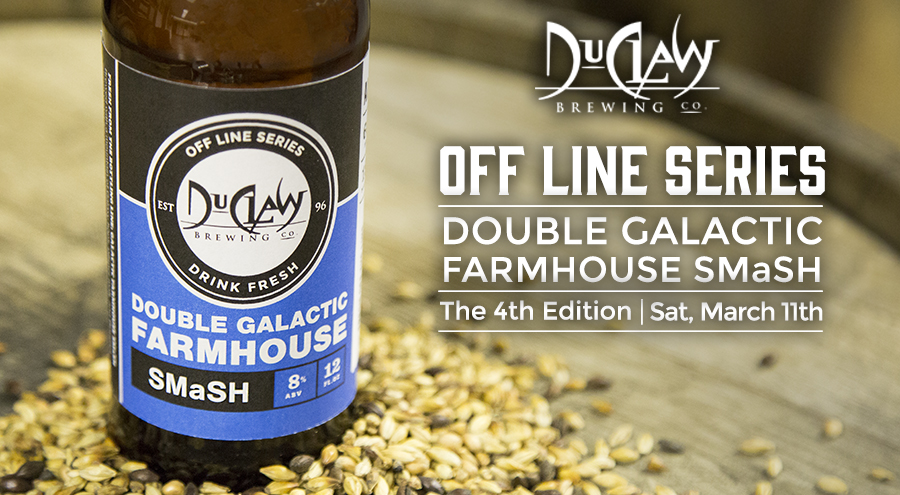 DuClaw Double Galactic Farmhouse SMASH, the 4th edition in the brewery's "Off-Line" Series, debuts on March 11th.
SMASH, or Single Malt and Single Hop beer, features Australian Galaxy hops, and pilsner malt. Fermented with Blaugies yeast. Blaugies is a small town in Belgium not far from the French border.
DuClaw will be selling this limited, prototype release direct off the bottling line starting Saturday.
….creating a blend of passion fruit, apricot, and citrus flavors and aromas that last through to a crisp, refreshing finish. This vibrant combination of fruit flavors masks a robust 8.4% ABV. that will have you feeling out of this world.
DuClaw Double Galactic Farmhouse SMASH is a 22 ounce bottle release.
Style: Farmhouse/Saison Ale
Hops: Galaxy
Malts: Pilsner
Yeast: Blaugies
Availability: 22oz Bottles
Debut: 3/11/17
8% ABV
DuClaw Hopalujah Double IPA debuts this weekend, celebrating the brewery's 20th Anniversary.
The new addition features Centennial, Galaxy, and Simcoe hops. All in all, 4.5 pounds of hops were used per barrel. Hopalujah kicks off a new "Off the Line" Series for the brewery.
In truth, the amount and variety of hops required (4.5 pounds per barrel!) restricts us from making this special double IPA again anytime soon, as it throws off our hop reserves for other brews.
DuClaw Hopalujah Double IPA will be available in 22 ounce bottles and draft in limited quantities at the brewery's celebration on August 20th.
Style: Imperial IPA
Hops: Centennial, Galaxy, Simcoe
Debut: 8/20/16
8.4% ABV