Topic Archives:
Dragonfruit
Dogfish Head Dragons & YumYums, a collaboration with the band The Flaming Lips, has arrived. 
Delaware based Dogfish Head is no stranger to musical collaborations. Previous releases include Bitches Brew inspired by Miles Davis, American Beauty with the Grateful Dead, and Beer Thousand with Guided By Voices. (Don't forget the collaboration with Pearl Jam, Deltron 3030 as well.) The newest musically inspired creation by the folks in The First State is Dogfish Head Dragons & YumYums – a liquid tribute to The Flaming Lips.
Most everyone knows The Lips thanks to their 1993 hit, "She Don't Use Jelly". Their elaborate and over-the-top shows and known eccentricity makes partnering with the original "Off-Centered" folks at Dogfish Head.
Dragons & YumYums is billed as a "lip-smacking" tart pale ale brewed with dragonfruit, yumberry, passionfruit, pear juice and black carrot. This is no simple fruit ale. Per Dogfish Head "Us coming together to make, what might be, the world's first vinyl record filled with pink colored beer… is somehow… perfect!!"
With a shared goal of making this collaboration an epic, sensory enveloping experience at the intersection of creative beer paired with creative music, both Dogfish and The Flaming Lips believe this is the first time a band has been so pivotal and deeply involved in the creation of the beer, the ingredients that were chosen, and the authoring of a song made specifically in tribute of the beer.
Expect Dogfish Head Dragons & YumYums will hit shelves ahead of Record Store Day 2018 – April 21st.
Style: Fruit Beer (w/ Dragonfruit. Yumberry. Passionfruit, Pear Juice. Black Carrot.)
Availability: 12oz Bottles, Draft.
Debut: April 2018
6.5% ABV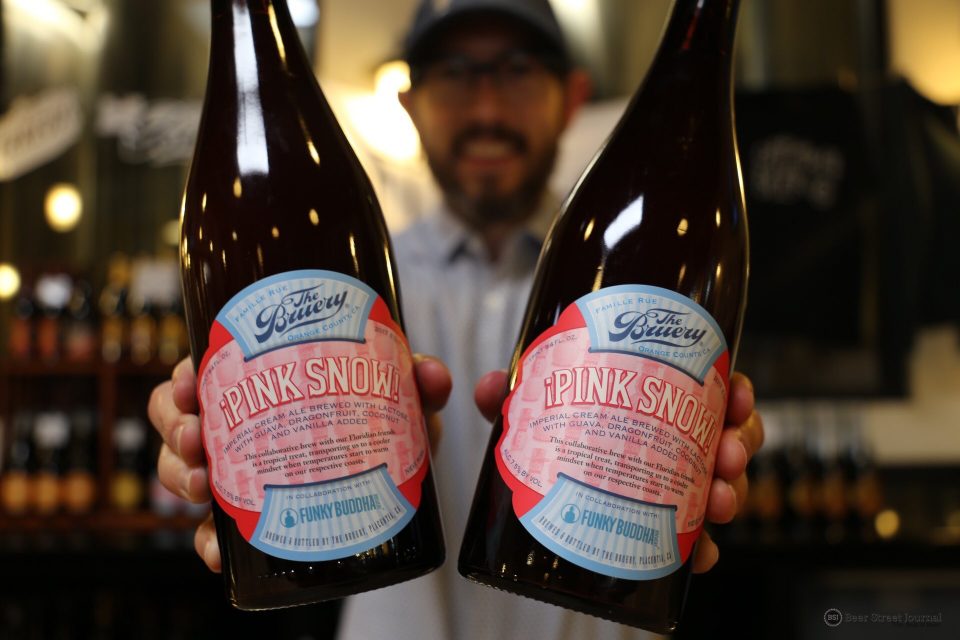 Later this year, The Bruery has a collaborative release slated for later this year, with Florida's Funky Buddha Brewery. Until today, we thought there might only be one, but in actuality, there might be two. The first – Guava Libre!. A second potential has surfaced – The Bruery Pink Snow.
Both creations are slated to be cream ales. Guava Libre is inspired by a Cuban guava pastry. The Bruery Pink Snow also carries a dessert vibe, resulting in something more fitting for the SoCal and Florida mild winters – a tropical snow cone.
RELATED: The Bruery Guava Libre
This imperial cream ale features guava, dragonfruit, coconut, and vanilla beans, turned creamy smooth with the addition of lactose.
The result is so damn tropical. Vanilla and coconut subtley dominate the beer, which is creamy and quite unique. It's a fruity tropical dessert that would be just a fantastic over shaved ice at a carnival. Probably one of the most unique beers we've tasted in a long, long while.
Since our collective exposure to the wet wintry elements is minimal, we at The Bruery® and Funky Buddha decided to create our own version of snow – something pink and tropical -that we can play in as temperatures start to arm. Championing the big, bold flavors our breweries are known for, we brewed an imperial cream ale, then added lactose and vanilla for sweetness, and guava, dragonfruit and coconut for a vibrant, tropical vibe.
The Bruery Pink Snow is slated for 750 milliliter bottles, debuting in the brewery's taproom starting June 6th. No distribution.
Style: Imperial Cream Ale (w/ Guava. Dragonfruit. Coconut. Vanilla Beans. Lactose.)
Availability: 750ml Bottles, Draft.
Debut: 6/6/17
7.5% ABV
PIC: Beer Street Journal & Joel Kennedy, Marketing Manager of The Bruery.