Topic Archives:
Cinchona Bark
Highland Slow Crush Tart Spritz Ale will join Asheville, North Carolina's oldest brewery's lineup in May.
After speaking with Highland Brewing this morning, it's very evident the team is excited about this new release. Slow Crush, subtitled a "tart spritz ale", is a kettle sour that mimics the Aperol Spritz cocktail.
To achieve this, Highland used a few botanicals you don't find very often in beer – gentian root, cinchona bark, and hibiscus flowers. They contribute the kettle soured base beer, brewed with flaked rye malt and Citra and Amarillo hops. The result according to the brewery is an effervescent beer with a refreshing acidity that is perfect for any occasion.
"This is a dynamic time in the industry and at Highland.We are exploring what Highland beer can be and creating beers that are different from anything we have ever done before. Slow Crush refers to the tradition of gruits and aperitifs and the way that brewers and distillers tried to achieve balance with different herbs and spices… – Trace Redmond, R&D Brewer
Highland Slow Crush will be available in 16-ounce cans year-round starting in May 2019.
Style: Kettle Sour Ale (w/ Cinchona Bark. Hibiscus Flowers. Gentian Root.)
Hops: Citra, Amarillo
Availability: 16oz Cans, Draft. Year-Round
Debut: May 2019
5% ABV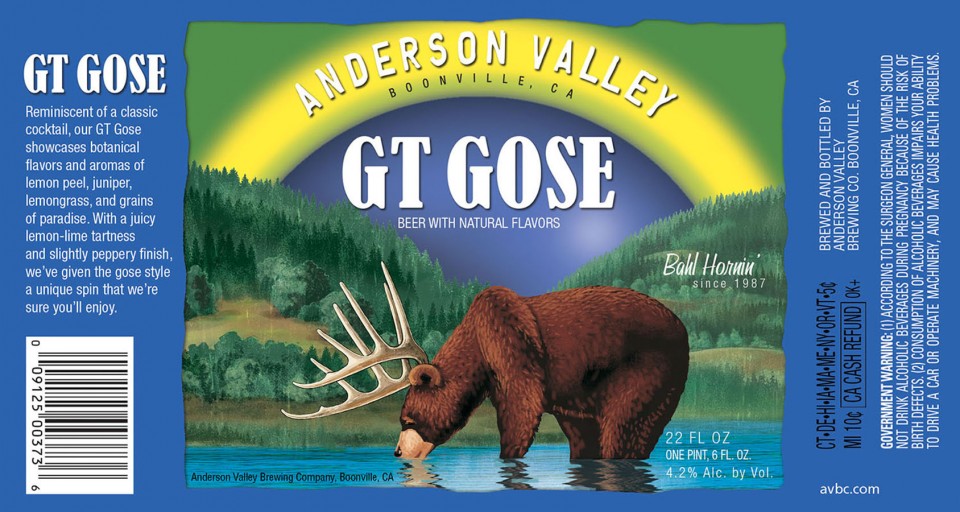 Anderson Valley GT Gose is headed to market, a new botanical gose.
Think of a gin & tonic cocktail when it comes to this new gose. The idea came about after a few in house discussions surrounding beer cocktails, and barrel-aged gins. The brewery used lemon peel, juniper berries, and lemongrass at the end of beer's boil, adding botanical notes that gin boasts.
During fermentation, the brewery added cucumber, salt, and a touch of cinchona bark.
Reminiscent of a classic cocktail, our GT Gose showcases botanical flavors and aromas of lemon peel, juniper, lemongrass, and grains of paradise. With a juicy lemon-lime tartness and slightly peppery finish, we've given the gose style a unique spin that we're sure you'll enjoy.
Anderson Valley GT Gose is available in 12 ounce cans, and draft.
Style: Gose (w/ Lemon Peel, Juniper, Lemongrass, Grains of Paradise, Cucumber, Sea Salt, Cinchona Bark.)
Hops: Bravo
Malts: 2 Row, Cara-Crystal, Wheat
Availability: 12oz Cans, Draft.
Debut: February, 2017