Topic Archives:
Chia Seeds
2019 looks to be the year craft breweries focus on few calories, few carbohydrates, and lower alcohol by volume. Harpoon Rec League is another example of this growing field of healthier options.
This new health-conscious beer is brewed with buckwheat kasha for B vitamins, fiber, antioxidants, and Omega 3 heavy chia seeds and sea salt for electrolytes. It already sounds like a sports drink instead of a beer.
Rec League is just 120 calories per 12-ounce serving and 3.8% alcohol by volume is designed for folks with active lifestyles.
"Fans of Harpoon do more than drink beer – they're running road races, working out with friends, and hitting the slopes. We wanted to make a beer that celebrates and complements this active lifestyle." Tom Graham, Innovation Brewer
Harpoon Rec League is available nationally in both 16-ounce cans and 15-pack 12-ounce cans starting in February 2019.
Style: Pale Ale (w/ Buckwheat. Chia Seeds. Sea Salt.)
Availability: 12oz Cans. 16oz Cans.
Debut: February 2019
3.8% ABV 
Image: Harpoon Brewery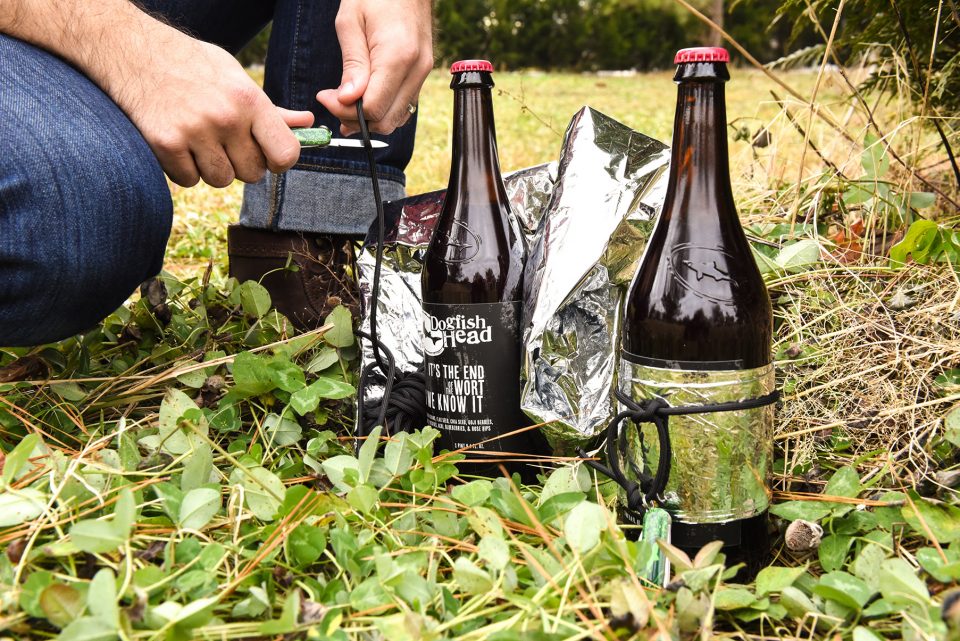 Dogfish Head It's The End Of the Wort As We Know It, a "nutrient-rich survival beer" on January 27th. 
With an overt nod to the band R.E.M.'s seminal 90's track, Dogfish Head It's The End Of the Wort As We Know It will make a limited appearance at the Delaware brewery later this month.
Using nutrient-rich superfoods like including purple sweet potatoes, rose hips, chia seed, flax seed, spelt, oats and quinoa, Dogfish Head created a beer with 8x more Vitamin B than the leading light lager. Additionally, "End of the Wort" boasts 90% of the daily recommended serving of folic acid. That means this beer can fight anemia better than most beers. In an ironic twist, folate deficiency can be caused by alcoholism. (Life is confusing.)
In true "Off-Centered" fashion, each of the 200 bottles of Dogfish Head It's The End Of the Wort As We Know It will sport a brewery branded Swiss Army Knife,  survival blanket, and paracord. Everything you need to survive a wilderness drinking situation.
"We are not making any health claims in association with this beer.  We are merely sharing our brewing process and the culinary ingredients we chose for the recipe that are rich in alluring aromas and flavors."  Slightly tart and subtly sweet with jammy blueberry, cranberry, and cherry flavors, this medium-bodied beer clocks in at 9% ABV and is a critical off-centered ale to include in your survival bunker. – Sam Calagione, Dogfish Head Founder
Dogfish Head It's The End Of the Wort As We Know It is limited to just 200 750 milliliter bottles. On sale for $45 dollars at the brewery on January 27th.
Style: Belgian-style Strong Ale ( Purple Sweet Potatoes. Rose Hips. Chia Seeds, Flax Seed, Spelt, Oats. Quinoa)
Malts: Oats, Spelt
Availability: 750ml Bottles. 200 Bottles, Brewery Only
Debut: 1/27/18
9% ABV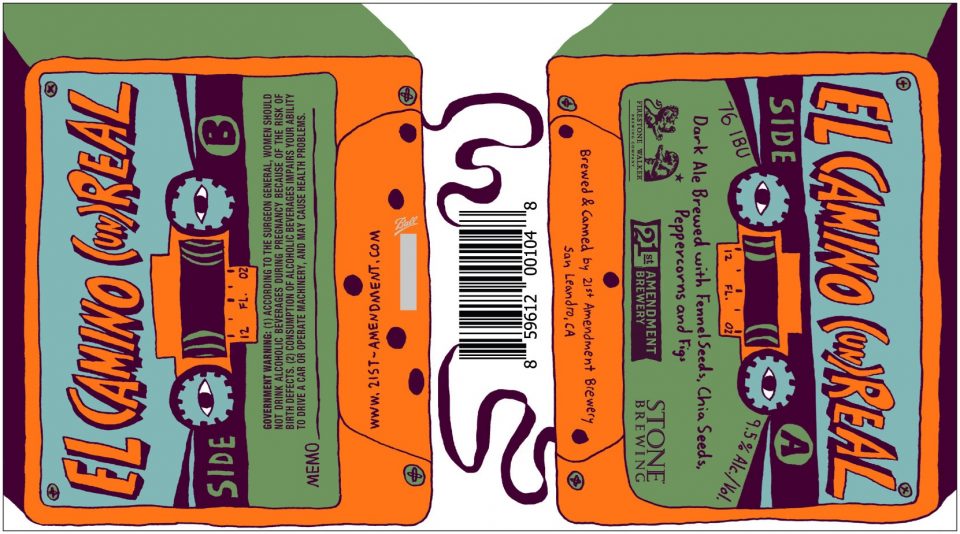 21st Amendment El Camino (Un) Real, a three way collaboration with Firestone Walker and Stone Brewing will soon return.
The last time the world saw this collaboration was in 2011, when Stone Brewing released 12 ounce bottles of the unique beer. El Camino (Un) Real is a dark ale, brewed with fennel seeds, chia seeds, peppercorns and figs.
The name plays a massive importance in this beer. El Camino Real is a 600 mile stretch of road in California that connects 21 Spanish Missions. Missionaries and Native Americans grew crops like chia and fennel along the stretch. 21st Amendment El Camino (Un) Real brings three California breweries together in one can, plus a little history to boot.
Offering a glimpse into what many feel is the "real" California, the El Camino Real wends through the state's coastline, mountains, fertile farming valleys, and traffic-heavy urban and suburban areas. And of course, you'll also find the 21 California Missions, reminders of Father Junípero Serra's and the Spanish missionaries' attempts to convert the indigenous California residents to Catholicism.
21st Amendment El Camino (Un) Real is a 12 ounce can and draft release. Cans debuted at the brewery's taproom the week of October 17th. National distribution to follow.
Style:            (w/ Fennel Seeds, Chia Seeds, Peppercorns, Figs)
Availability: 12oz Cans, Draft.
Debut: Mid-October, 2016
9.5% ABV, 76 IBUs