Topic Archives:
Buckwheat
2019 looks to be the year craft breweries focus on few calories, few carbohydrates, and lower alcohol by volume. Harpoon Rec League is another example of this growing field of healthier options.
This new health-conscious beer is brewed with buckwheat kasha for B vitamins, fiber, antioxidants, and Omega 3 heavy chia seeds and sea salt for electrolytes. It already sounds like a sports drink instead of a beer.
Rec League is just 120 calories per 12-ounce serving and 3.8% alcohol by volume is designed for folks with active lifestyles.
"Fans of Harpoon do more than drink beer – they're running road races, working out with friends, and hitting the slopes. We wanted to make a beer that celebrates and complements this active lifestyle." Tom Graham, Innovation Brewer
Harpoon Rec League is available nationally in both 16-ounce cans and 15-pack 12-ounce cans starting in February 2019.
Style: Pale Ale (w/ Buckwheat. Chia Seeds. Sea Salt.)
Availability: 12oz Cans. 16oz Cans.
Debut: February 2019
3.8% ABV 
Image: Harpoon Brewery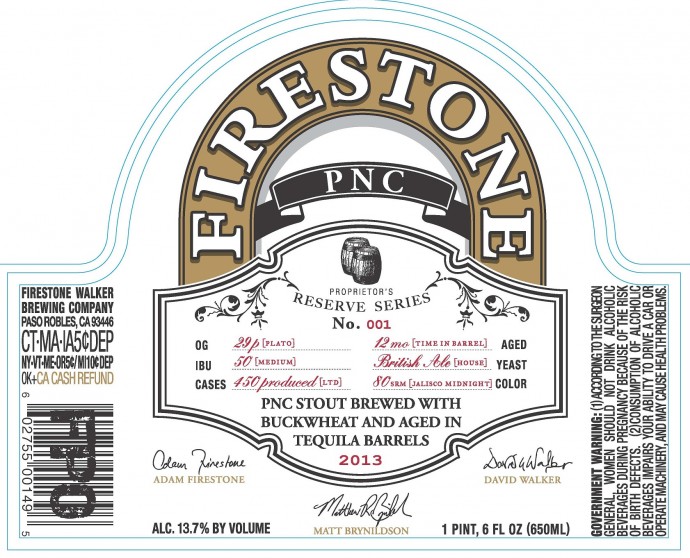 Firestone Walker's PNC Stout is brewed with buckwheat, and aged in tequila barrels. This Proprietor's Reserve release will more more limited then usual, only 450 cases.
Those who pay close attention to the Firestone Anniversary blends will find that PNC was 8.1% of the final blend of the November, 2012, Sixteen release.
Style: Imperial Stout (w/ Buckwheat, Barrel Aged. Tequila)
Availability: 22oz bombers. 450 Case limited release. No distribution
13.7% ABV