Topic Archives:
Brasserie D'Achouffe
Brasserie d' Achouffe (Achouffe, Belgium) will be bringing a one-off to the U.S. this fall- Biere Du Soleil.  Described as a "table beer" this beer was purported to have been brewed in a few small batch over 5 years ago, and never imported stateside.  Soleil is a Belgian pale ale with a target abv of 4.5%.
Chouffe currently has 6 beers in their current lineup – including the popular Houblon Chouffe a Belgian IPA, and La Chouffe a Belgian pale ale.
Arrival: Late Summer – Fall, 2011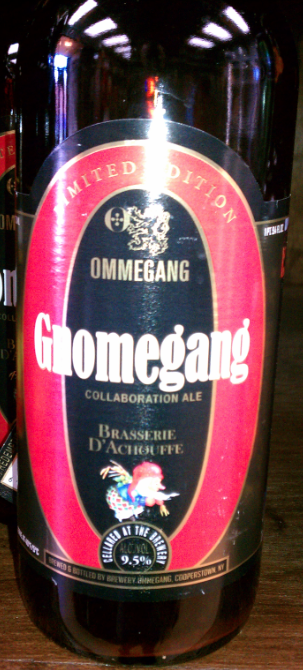 Gnomegang unites Brasserie d 'Achouffe & Brewery Ommegang in a Belgian-American collaboration.  Gnomegang was conceived in the summer of 2010 when Achouffe visited Ommegang.  The result is a strong Belgian golden ale featuring flavors from both breweries.  This beer features Chouffe yeast in the primary fermentation, and Ommegang in the second fermentation (Bottle Conditioning).  The result is a golden ale that is lush & spicy ale.
Style: Belgian Strong Pale Ale
Hops: 2 Saaz varieties, hopped 3 times.
Malts: Pilsner, Carapils, Flaked Oats, Flaked Red Wheat, Special B
Adjuncts: No spices. Sugar added.
Taste Expectations: Ripe fruit, clove, caramel.  Grassy hops, candi sugar sweetness.  Full body, full carbonation.
Availability: 750ml Bottles, corked & caged.  Draft. 1 time collaboration.
9.5% ABV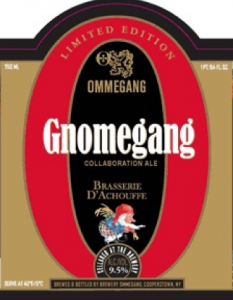 Brewery Ommegang (Cooperstown, NY) loves Belgian brewing styles.  Every offering by the brewery has a Belgian influence – Belgian scotch ales, Belgian winter warmers etc.  One of Ommegang's most recent offerings was Zuur, a Flanders ale brewed in collaboration with Liefmans.  Building off of Zuur's popularity & the love of all things Belgian comes Ommegang's newest collaboration "Gnomegang".
Gnomegang pairs  Brasserie D'Achouffe (Achouffe, Belgium) and Brewery Ommegang.  As mentioned yesterday, Ommegang will close at the end of January to undergo a few internal improvements.  Ommegang and Brasserie D'Achouffe will brew this beer on site Cooperstown, New York.
Ommegang describes:
This delectable blonde ale is a co-creation of two famed farmstead breweries: Brewery Ommegang and Brasserie d'Achouffe. It employs five fine malts, two noble hops, and both of the distinctive Chouffe and Ommegang yeasts. You'll enjoy the smooth drinkability, fruity aromas and flavors, and warming finish
Style: Belgian Strong Pale
Arrival: Late April 2011
Ommegang & D'Achouffe are related. Both are part of the Duvel Moortgat Family, makers of Duvel.