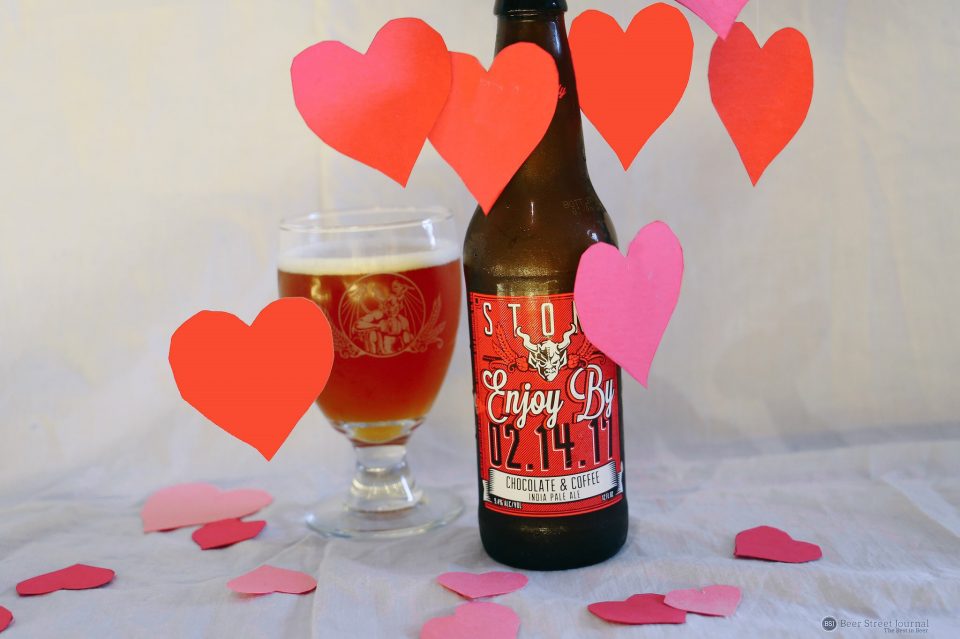 Stone Enjoy By Chocolate & Coffee IPA is officially the next in a line of "Enjoy By" beers.
Fresh and hoppy is the core of Stone Brewing's Enjoy By Series, giving distributors and drinkers alike a time frame to ship, purchase and drink the "Devastatingly Fresh" India pale ale.
Since the beer's inception, various iterations of the beer have been released, including Enjoy By Tangerine IPA, and Enjoy By Unfiltered IPA. Headed to shelves now – Stone Enjoy By Coffee & Chocolate IPA.
The brewing team tested several batches of fruit and chocolate beers before finding the right blend of hops, chocolate and and coffee. The coffee is San Diego Sunrise, a blonde roast by Ryan Bros. Coffee. This particular roast is less on the roast and more on the chocolate flavor. The cocoa beans were carefully sourced from Belize, and shelled roasted and shelled by the team.
It's not unusual to see pronouncements of "I Heart Hops," "I Heart Chocolate" or "I Heart Coffee" throughout #socialmedia, printed on T-shirts and, notch, emblazoned on coffee cups. Over the past couple of decades we have helped add "I Freaking Heart IPAs" to that lexicon. Today, passionate people can't imagine a world without all of the above. For this special edition, we added chocolate and coffe to make this devastatingly fresh IPA even more seductive to the palate. We humbly suggest that you use this libation to proclaim your love for someone…and we suggest that someone be you. Loving yourself is exactly what this libation is all about.
Stone Enjoy By Coffee & Chocolate IPA will be a draft, 12 and 22 ounce bottle and draft release.
Style: Imperial IPA (w/ Coffee, Chocolate)
Hops: Nugget, Super Galena, Simcoe, Amarillo, Delta, Target, Cascade, Citra, Galaxy, Nelson Sauvin, Motueka, Helga
Availability: 12oz Bottles, 22oz Bottles, Draft.
Distribution: AK ,AL, AZ, CA, CO, CT, DC, DE, FL, GA, IL, IN, KS, LA, MA, MD, ME, MI, MN, MT, NC, NE, NH, NM, NV, NY, OH, PA, RI, SC, TN, UT, VA, VT, WA, WI
International Distribution: Japan, Korea, Singapore
Debut: January, 2017
9.4% ABV