Upcoming Events

Sly Fox Bock Fest & Goat Race 2022
May 1, 2022 @ 8:00 am

-

5:00 pm

$40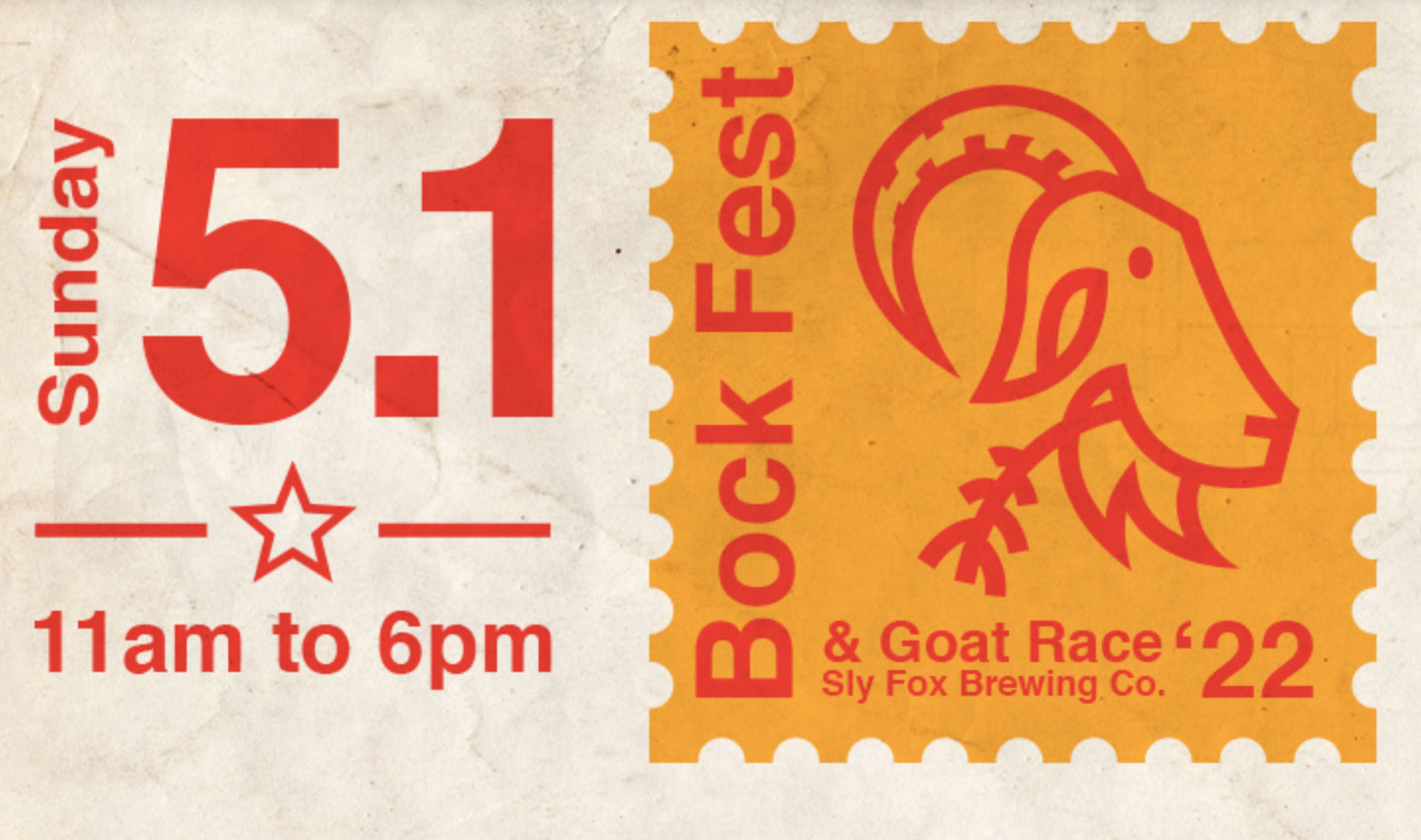 BOCK FEST& GOAT RACE
The first Sunday in May is a special time at the brewery…the Sly Fox Bock Festival & Goat Race is held every year, rain or shine! Called "Philadelphia's best beer event," the Bock Fest & Goat Races draw massive crowds of people who love to celebrate spring with great beer!
Delicious food and German oompah music will complement our bock beer-loaded lineup on the first Sunday in May for the first time in 3 years!
The Sly Fox team of brewers produce a mouthwatering lineup of bock beers including Instigator Doppelbock, Rye-zenbock, and of course our amazing Maibock. The day marks the release of the Maibock which is tapped immediately after the Goat Race and named in honor of the winning goat.
A wide-open, grassy field neighboring the 30,000 square-foot brewery is the annual site for the running of the ruminants and festival fun. Live German Oompah music plays from a stage and there is even coverage of the Goat Races on a jumbotron. Afterward, some of the goats and their owners mingle with the crowd, delighting the many children in attendance with their families. It's an amazing day at the brewery!
And this time, we're doing the Bock Fest a bit differently. A limited number of admission tickets available! We're bringing you a better Bock Fest experience this year, with smaller crowds, shorter lines, and perfectly packaged ticket options.
Children Under 16 $0
Ticket Required for: Entry to the 2022 Bock Fest & Goat Race, Age 16-21 & Designated Driver
$20 Ticket Includes:
Entry to the 2022 Bock Fest & Goat Race
2 food/merch tickets
Half-liter Mug Ticket
$40 Ticket Includes:
Entry to the 2022 Bock Fest & Goat Race
1 half-liter souvenir glass mug
1 half-liter draft pour
2 food/beer/merch tickets
Liter Mug Ticket
$50 Ticket Includes:
Entry to the 2022 Bock Fest & Goat Race
1-liter souvenir glass mug
1-liter draft pour
2 food/beer/merch tickets
VIP Ticket $100 Ticket Includes:
Preferred parking
Entry to the 2022 Bock Fest & Goat Race
Reserved trackside seat with a complimentary can of beer during the race
1 souvenir glass mug of your choice
1 draft pour
2022 Bock Fest t-shirt
2 food/beer/merch tickets
Related Events