Upcoming Events

Fresh Hop Pop-Up Beer Fest 17-day Hop Harvest Celebration
September 17, 2021 @ 8:00 am

-

October 3, 2021 @ 10:00 pm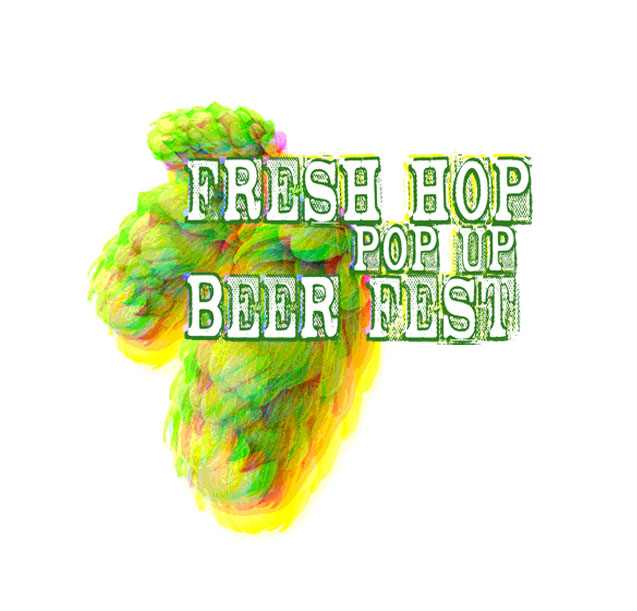 Oregon's freshest Fresh Hop event kicks off the seasonal hop harvest celebrations with 17 straight days of fun September 17 – October 3rd from 8 am – 10 pm. The 6th annual Portland Fresh Hop Pop-Up Beer Fest has yet to miss a year, and this will be the largest lineup of beers so far.
More of a beer garden than a beer fest, the Fresh Hop Pop-Up has the enviable position on the calendar to showcase fresh hop beers at their freshest points. With 10 constantly rotating taps, the Pop-Up beer garden is able to feature more breweries, hop varieties, and regions than other fresh hop events. Throughout the 17 day pop-up there are days devoted to popular breweries like Fort George, Breakside, pFriem, and Ruse, as well as the fresh hop beers of Portland, Bend, Washington, and the Gorge.
It also boasts an outdoor, open-air, heated, and covered venue at Portland's best food cart pod the Prost! Marketplace. Originally founded in the parking lot of the late lamented Burnside Brewing Co., the Fresh Hop Pop-Up relocated to Prost! Marketplace in 2019 and reaps the benefits of the communal environment. The beer garden/marketplace features ten food trucks with all-stars like Matt's BBQ and Little Conejo tacos, plus vegan fusion options from the Native Bowl, just to name a few.
Fresh Hop beers are made only once a year when the annual hop harvest takes place during the seasonal transition of summer into fall. Hops are cone-like flowers that impart beer with bitterness, flavor, and aroma. Most hops are dried and pelletized for use year-round, but fresh hops are those whole unprocessed cones, still sticky with lupulin, with extra splashes of floral flavors and effervescence. Oregon and Washington grow the majority of hops in the United States and thus have access to fresh hops that are typically used within just hours of harvest.
The Fresh Hop Pop-Up Beer Fest is an all-day 8 am – 10 pm affair with plenty of reasons to come back to for repeat visits over 9/17 – 10/3 to experience the best Washington and Oregon has to offer. All beers will be offered in 10oz or 16oz pours, and growler fills or mason jar priced to take home. No cover charge or tickets are necessary. Prost! Marketplace is also all-ages friendly on a covered, outdoor, elevated deck that has been called Portland's "top food cart pod" by The Oregonian.
Friday 9/17 – Kickoff with Goschie Farms and an all Portland brewery showcase
Meet the legendary 3rd generation Oregon hop farmer Gayle Goschie in person and try 5+ beers made with fresh hops from her Goschie Farms in Silverton, Oregon! Gayle will be in attendance from 4-7 pm but the beers will be on draft all day.
Sunday. 9/19 – Bend Fresh Hop Night
A regionally themed showcase of the fresh hop beers of Bend, Oregon featuring Sunriver Brewing, Boss Rambler Beer Club, and Bend Brewing Co.
Wednesday 9/22 – Fort George Fresh Hop Night
Astoria, Oregon's famed Fort George Brewery will be here with all 4 of their 2021 fresh hop beers on draft!
Thursday 9/23 – Breakside Brewery Fresh Hop Night
Breakside Brewery will tap 5 fresh hop beers at the pop-up including fresh versions of the flagship IPA, India Golden Ale (IGA), What Fresh Beast, @Portland IPA, and Wanderlust.
Fri. – Sun. 9/24-26 – Fresh Oktoberfest
Prost! Will be celebrating their Oktoberfest indoors this year, but outdoors the Bloodbuzz bar will be featuring special tappings of fresh hop lagers and fest biers.
Tuesday 9/28 – pFriem & Gorge friends Fresh Hop Night
pFriem Family Brewers will debut 2 fresh hop beers as they are joined by fellow breweries of the Columbia River Gorge: Everybody's Brewing and Ferment Brewing.
Wednesday 9/29 – Ruse Fresh Hop Night
Portland favorites Ruse Brewing will be in the house with 5 fresh hop beers.
Friday 10/1 – Washington Fresh Hop Night
Reuben's Brews, Bale Breaker Brewing, Fremont Brewing, Stoup Brewing, Wander Brewing, and Silver City Brewing fresh hop beers.
Sunday 10/3 – Closing Fresh Hop Specials
Help us kill the remaining beers with pints on-premise and discounted growler and mason jar fills to-go.
Related Events