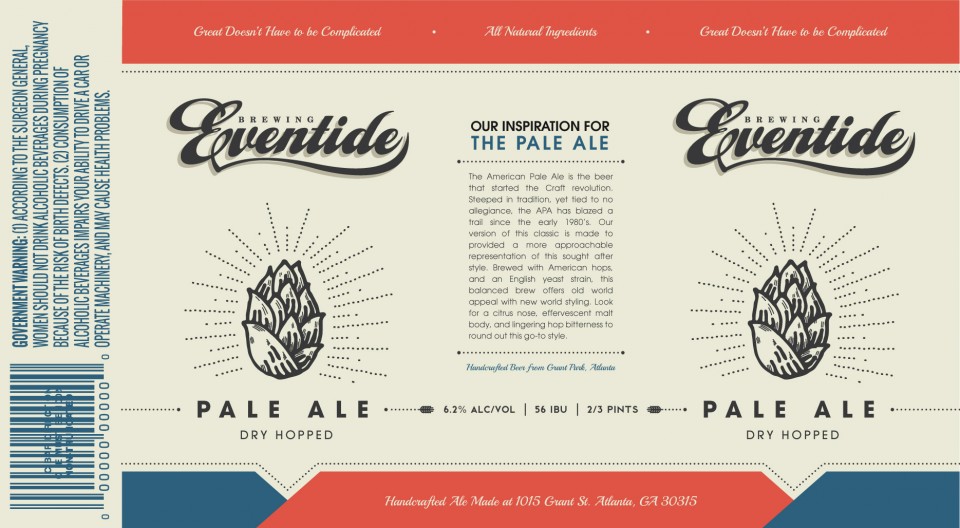 Eventide Pale Ale looks to join the brewery's package lineup in 2015. The brewery is based in the Grant Park area of Atlanta, Georgia.
Eventide Pale Ale is a part of their year round lineup, launching on draft when the brewery opened.
The American Pale Ale is the beer that started the Craft revolution. Steeped in tradition, yet tied to no allegiance, the APA has blazed a trail since the early 1980's. Our version of this classic is made to provided a more approachable representation of this sought after style. Brewed with American hops, and an English yeast strain this balanced brew offers old world appeal with new world styling. Look for a citrus nose, effervescent malt body, and lingering hop bitterness to round out this go to style.
Eventide Pale Ale will be among the first package from the young craft brewery. The brewery has not yet announced dates for package launch.
Style: American Pale Ale
Availability: Draft only (Current), 12oz Cans (Soon)
Release: TBA
6.2% ABV
Eventide Brewing (Atlanta, GA) releases Highlander Scotch Ale next week. The offering is a one-off seasonal, on tap as long as it lasts.
7 malts are used to create this wonderfully complex Strong Scotch Ale. Notes of caramel, toasted bread, honey, dark fruits, chocolate, and roasted coffee are all prevalent. Allow it to warm to cellar temperature to experience the full flavor profile. The sweetness is balanced by a hefty but not overwhelming bitterness. This beer is the perfect complement to the coming, cool fall weather.
Eventide Highlander will make a cellared return in the brewery's tap room when it opens in 2015.
Style: Scotch Ale
Availability: Draft only
8.2% ABV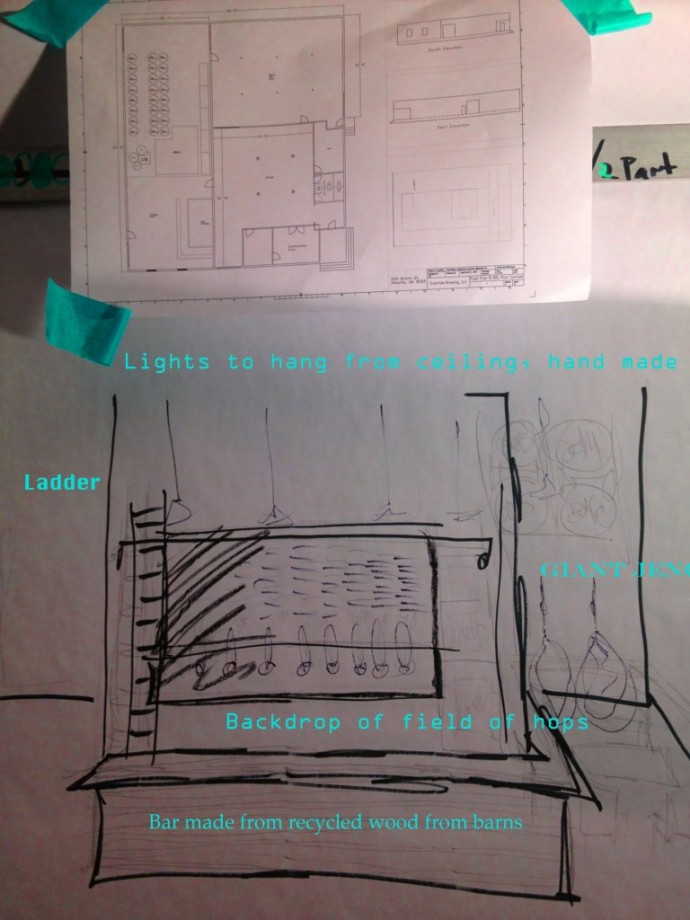 Eventide Brewing (Future Atlanta, GA) has signed a space for a tap room/brewery in Atlanta, Georgia. The folks behind Eventide will be working on this build entirely by themselves. Location not yet announced.
 The build out is going to be done all by us. One of the unique things about us is that we have more bad ass talent than most people realize. For the design and construction of our tasting room we have Nathan, who grew up in a metal shop. He can fabricate most anything he sees out of metal, and whose brother is a contractor. Myself, I grew up the son and grandson of 2 shop teachers, and 1 tradesman. When I was 18 I was ranked the 15th best cabinet maker in the nation. In summary, we have the knowledge and skill to do the design and build out ourselves.
More to come on this brewery for sure. Above: Rudimentary design plans