Topic Archives:
Peppermint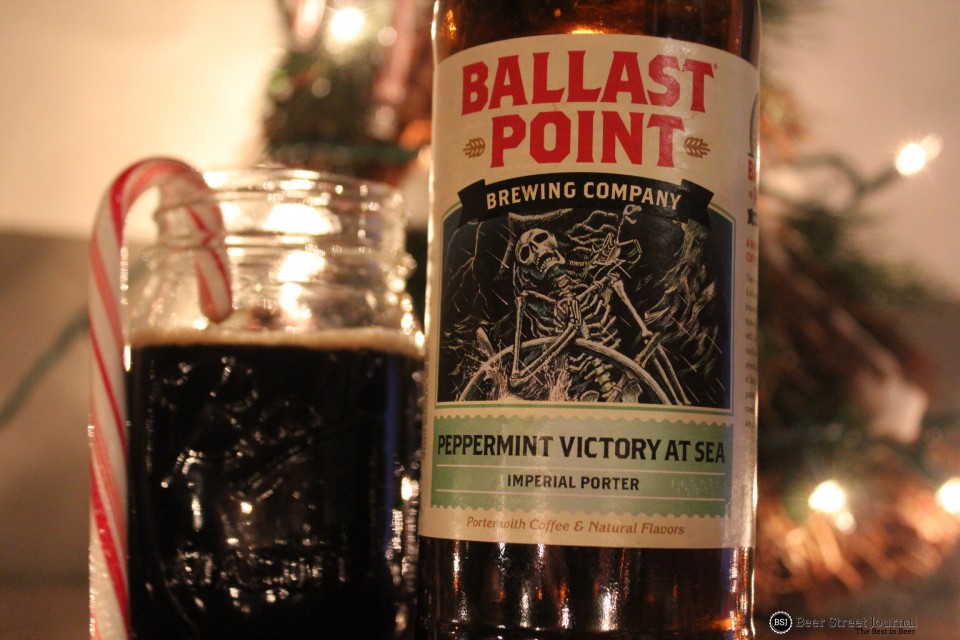 Ballast Point Peppermint Victory at Sea, a variant on the popular imperial porter is hitting shelves.
Much like the original, Ballast Point Peppermint Victory at Sea features coffee and vanilla. The twist of course, is peppermint.
This Peppermint Victory at Sea is a festive take on our popular Imperial Porter. We took our trademark robust porter brewed with Caffe Calabria coffee and vanilla and added a dose of refreshing peppermint. The trio of flavors play perfectly on your palate – the brew's sweet roastiness balances nicely with a cool, minty finish. You might even call it a breath of fresh beer.
Ballast Point Peppermint Victory at Sea is a 22 ounce bottle offering. The flavor is much like the tried and true regular edition of Victory at Sea, with hints of peppermint throughout. For some, strong peppermint can be a turn off. Unless the 2016 edition upped the minty-ness, this beer drinks like a seasonal dessert.
Style: Imperial Porter (w/ Coffee, Vanilla, Peppermint)
Availability: 22oz bottles, Draft
Latest Release: Late November, 2016
10% ABV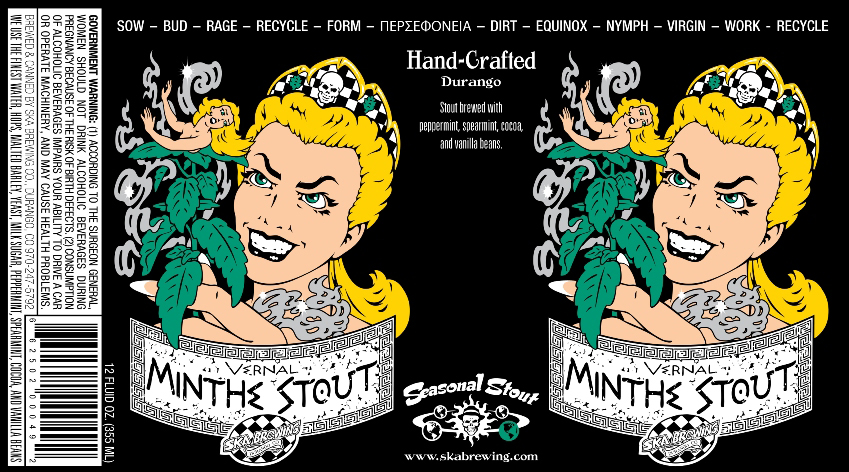 Ska Brewing will release the third edition in their  Seasonal Stout series: Vernal Minthe Stout on Wednesday. The stout brewed with peppermint, spearmint, cocoa and vanilla beans. The beer will hit shelves on March 20th, the date of the spring equinox.
"Spring is a good time to brew up a reward for making it through winter, said Ska Overlord of Brewing Operations Bill Graham. "The Vernal Minthe Stout is a treat: sweet, but with great roasted and chocolate notes for balance–and a peppermint note that reminds me of spring. I bet I'm not the only one who could use a reward about now."
Look for the next announcement in June, corresponding with the Summer Equinox.
Style: Stout (w/ Cocoa Nibs, Peppermint, Spearmint, Vanilla Beans, Milk Sugar)
Availability: 12oz cans
Arrival: 3/20/13
?? ABV
Set to join Ska Brewing's seasonal stout series is Vernal Minthe Stout. This edition blends chocolate, mint, and vanilla together in one flavorful can.
Style: Stout (w/ Cocoa Nibs, Peppermint, Spearmint, Vanilla Beans, Milk Sugar)
Availability: 12oz cans
Arrival: TBA
?? ABV