Upcoming Events

Black Friday at Payette Brewing
November 26, 2021 @ 12:00 pm

-

8:00 pm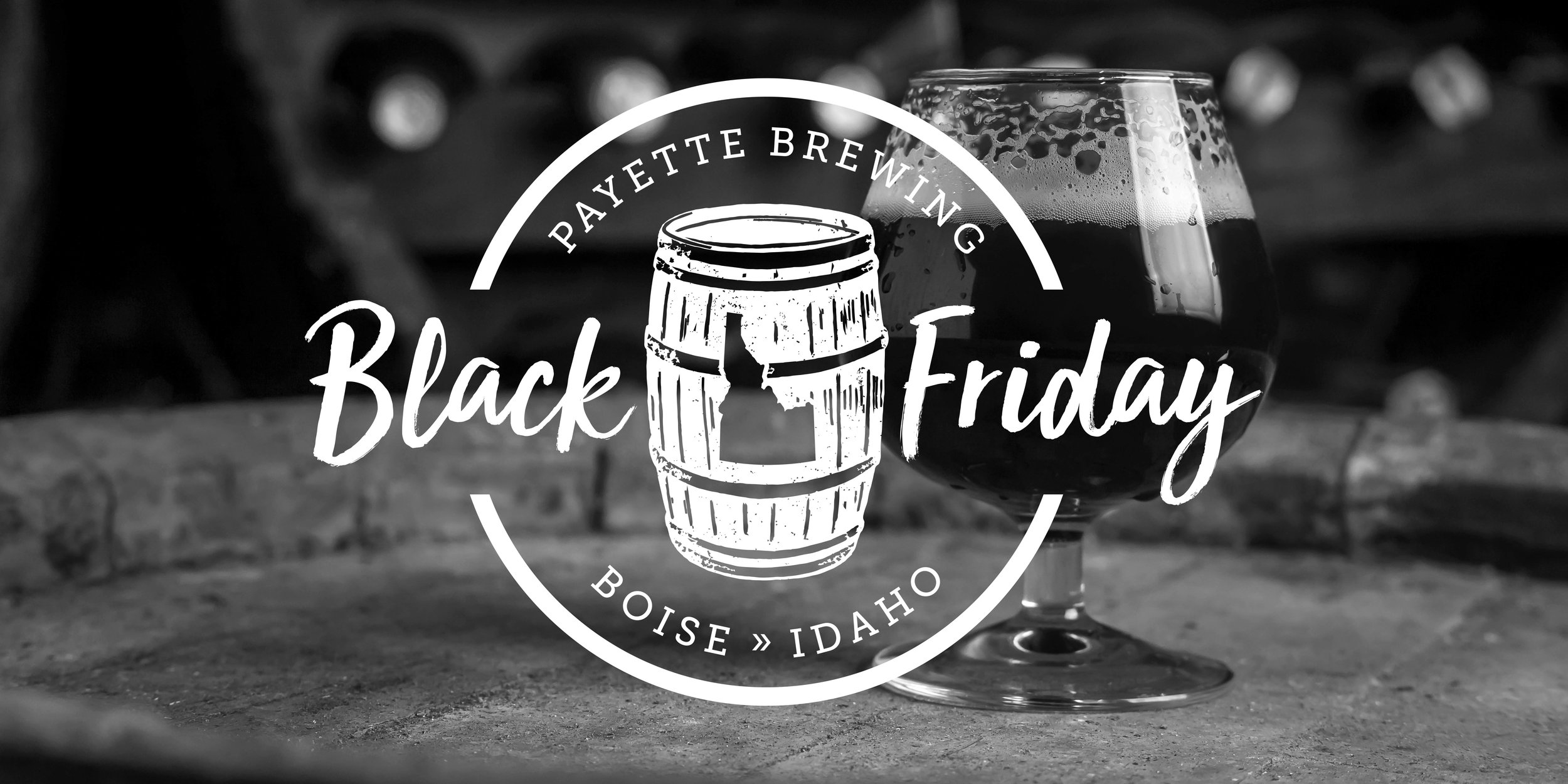 JOIN US FOR OUR MOST ANTICIPATED EVENT
Black Friday is BACK…now in our 10th year! You heard that right, our TENTH YEAR! Our most anticipated event [unlike any other] and the release of 2021 Twelve Gauge Barrel Aged Imperial Stout [+ variant, Crème Brûlée] Join us in the brewery production area as we tap 40+ high-end imperial stouts and porters, many of which are barrel-aged or infused. Live bands will perform throughout the day, food trucks to accompany your high ABV beers, and special pairings from Boise's local shops.
TOKENS & PRESALE PACKAGES
Entry is FREE!
Glassware // $2
Drink Tokens // $4
Glassware and drink tokens are available for purchase at the event.
(have a glass from last year? You're welcome to bring it!) Skip the line and reserve your spot with our advance purchase packages through the link below.
LIVE MUSIC
AARON GOLAY & THE ORIGINAL SIN // 1-4pm
TYLOR AND THE TRAIN ROBBERS // 5-8 pm
FOOD TRUCK FARE
Enjoy this wonderful variety of local food trucks from 12-8 pm
Emily's Mexican Grill
Big Fry 208
Crisp – Globally Inspired
TAP LIST
40 imperial stouts and porters from Payette and notable breweries around the country. Some are barrel-aged or infused, all are high-end and incredible. (Regular Payette beers will also be available for when you need a dark beer break.)
LOCAL ARTISANS
Fluff Hardware // Unique vintage & nature-inspired handmade accessories
Proof Eyewear //Eco-friendly eyewear that gives back
City Peanut Shop // Unique handcrafted nuts + brittle
Jennie Kilcup // Rustic, modern style + nature-inspired watercolor Artist
TWELVE GAUGE
Black Friday is more than a beer-drinking event. This day also serves as the (much anticipated) annual release of one of our favorite beers, a big and dark stout known as Twelve Gauge.
We played and perfected recipes worth salivating over. After a nine-month slumber in Bourbon barrels, Twelve Gauge is HERE… this year, 12 ounces of pure magic + a new mouthwatering variant. A beast of a beer unlike any other Payette brew, aged in 10-year-old barrels in honor of our 10th anniversary. Wildly robust recipe with rich oak, vanilla, and bourbon notes from the barrels, heat from the alcohol, and toffee flavors. Twelve Gauge Barrel Aged Imperial Stout + Crème Brûlée. Available for a limited time. 12oz four-pack cans: $20
LOCATION
Black Friday is held at Payette Brewing Company inside the Payette brewery production area. A unique experience where you can sip on savory beers alongside the brewing system and 240 barrel fermenters
733 South Pioneer Street » Boise, ID 83702 » 12:00 pm – 8:00 pm
ENTRANCE
Black Friday entrance will be through our beer garden. We have double doors that lead you directly into our brewery production area. Pre-sale will be directed on the left, general admission on the right.