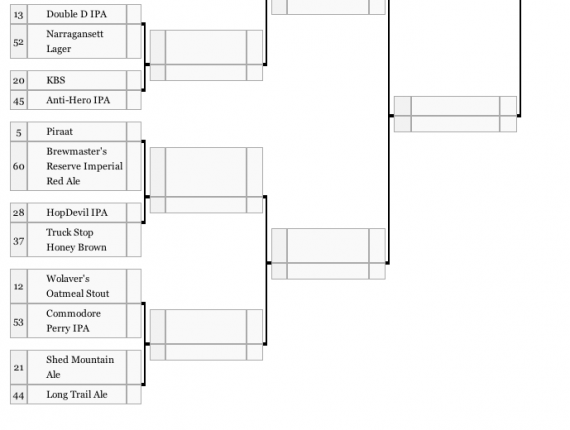 Your beer bracket that is. Draft Magazine has launched their yearly head-to-head beer bracket challenge and it's time for your voice to be heard. See if your beers make it all the way. Each person who participates will be entered to win a Kegerator from Kegerator.com plus the winning beer gets a $1000 donation to the charity of the brewery's choice.
There are a lot of great causes at stake including JDRF, Wounded Warriors, Feed America, and more plus it's all in good fun, so get to work! This week you can complete the first and second brackets, next week the Elite 8 and Final Four. What beer do you think will win?
Ever heard of the Beermuda Triangle?  It's the triangle created by Hop City, Octane Coffee, and 5 Seasons West. That's one triangle I love getting lost in.
Recently Hop City, with 5 Seasons and Octane Coffee came together to host the first home brew competition.  Entrants were allowed no more than 3 entries, and had to provide 3 bottles of each.  The beer was evaluated on pure merit alone, with no knowledge of style, ingredients, or who made it.  Basically, taste and enjoyment.
The first round wrapped up on Sunday – narrowing a field of 110 entries to 26.  (It was a tasty, fun task.)  The 26 remaining entries were carefully scrutinized and narrowed to 5.  But!!! Those 5 will remain a secret until the finals tonight, February 9th at 7 pm  at 5 Seasons Westside.  The finalists will be announced, and then live judging will take take place.  Judges include – Kraig Torres of Hop City, Crawford Moran, and Tony Riffel of Octane Coffee.  Guest judges to be announced at the event.
The winner of the Beermuda Triangle Homebrew Competition will get the opportunity to brew the winning entry with brewer-genius Crawford Moran of 5 Seasons West, and have his or her entry featured on draft!
So… make sure you make it tonight by 7 pm!  Should be a lot of fun!!
Tuesday, 2/9/10
5 Seasons Westside
1000 West Marietta Street Northwest
Atlanta, GA 30318-0524
(404) 875-3232