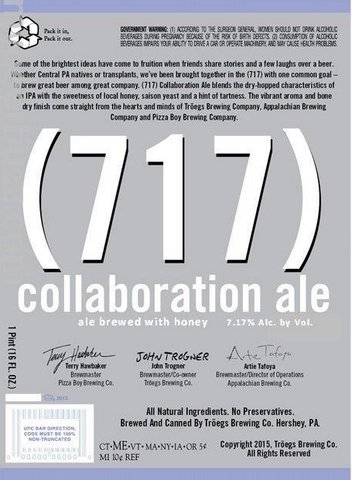 For the first time ever, Troegs Brewing Company, Appalachian Brewing Company, and Pizza Boy Brewing Company are collaborating to create a one-of-a-kind limited-release beer. (717) Collaboration Ale is being brewed for the inaugural Harrisburg Beer Week running April 24 – May 2 2015.
This beer represents a joint endeavor between the three breweries combining a variety of styles to create dry-hopped characteristics of an IPA with the sweetness of the local honey, local malts from Deer Creek Malts,  saison yeast, and a hint of tartness to deliver a vibrant aroma and bone dry finish.
"We're excited to be an integral part of the first Harrisburg Beer Week, " said Chris Trogner. "Harrisburg will always be a part of who we are. Beer Week not only celebrates our roots but also looks to the future as we welcome new breweries and enjoy continued success of the craft beer industry in Central PA"
All three breweries will tap (717) Collaboration Ale on April 27th.
Troegs will also be canning this offering in 16oz 4-packs distributed only within the 717 area code starting 4/27/2015. A portion of the proceeds from sales will benefit Harrisburg River Rescue, the beneficiary of Harrisburg Beer Week.
"This beer is as much about the act of brewing the beer as it is about drinking it," said John Trogner. "It's about sharing stories and ideas with each other and our desire to explore our collective curiosities."
(717) Collaboration Ale will tap for the first time at the kickoff event at The Abbey Bar at Appalachian Brewing Company on April 24th.