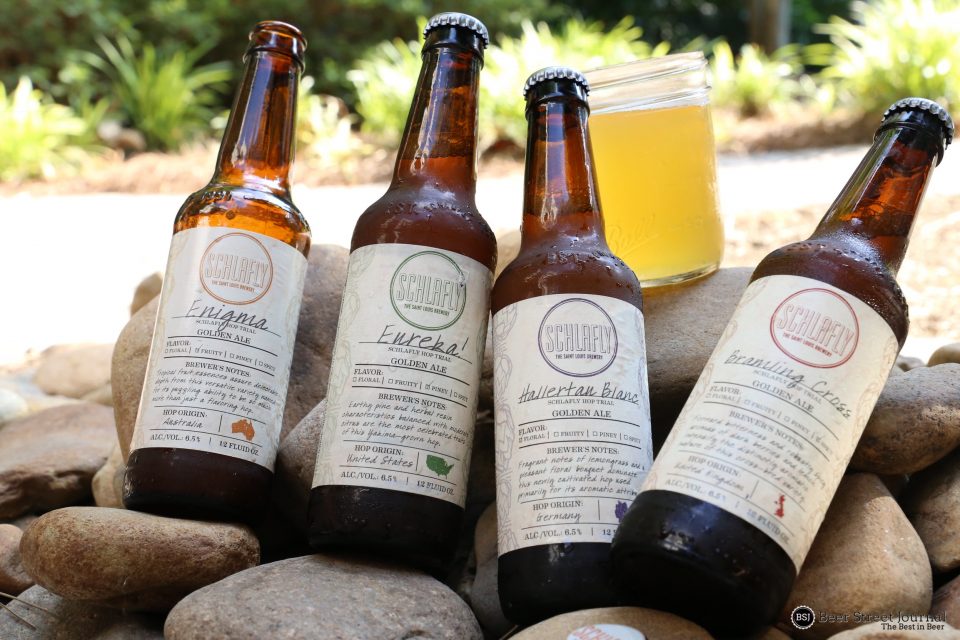 This July, St. Louis, Missouri's Schlafly Beer will introduce the Hop Trial SMaSH Pack, a new experimental release by the brewery.
The Schlafly SMaSH Pack features four different golden ales, each brewed with a brewer selected hop. The base beer is pretty much the same for each, using simple base malt of 2-Row malted barley. From there, the drinking gets fun.
Hops are the stars in each of the variants. In a world of so many IPA and pale ales with 2, 4, or more hops- this is a great way to get in touch with each of the hops in their own glory. The Schlafly brewers chose hops across four different continents – spanning the United Kingdom, Australia, Germany, and United States.
The rundown:
Eureka! hails from Steiner Ranch in Yakima, Washington. 2015 was the first time the hop became commercially available. The brewery made large purchase that same year. This one is "dank" and the brewery agrees. Look for Black currant, dark fruits, and pine. It's there.
Hallertau Blanc is the German hop in the mix, first appearing in 2012. Schlafly test brewed with the hop in 2014 and fell in love. It was used the brewery's white lager last winter. Lots of flowery fruits. Tropical.
Enigma swings in from Tasmania, Australia. It brings pineapple, Pinot Gris, and redcurrant flavors. God bless hop breeding.
Brambling Cross hails from the U.K. It even sounds English. It's the oldest hops in the bunch, first released in 1951. Lemon, Blackcurrant, and spice really come across in this hop and beer. Part of the brewery's Pale Ale these days.
The Schlafly Hop Trial SMaSH Pack will have three of each variety when it releases this July.