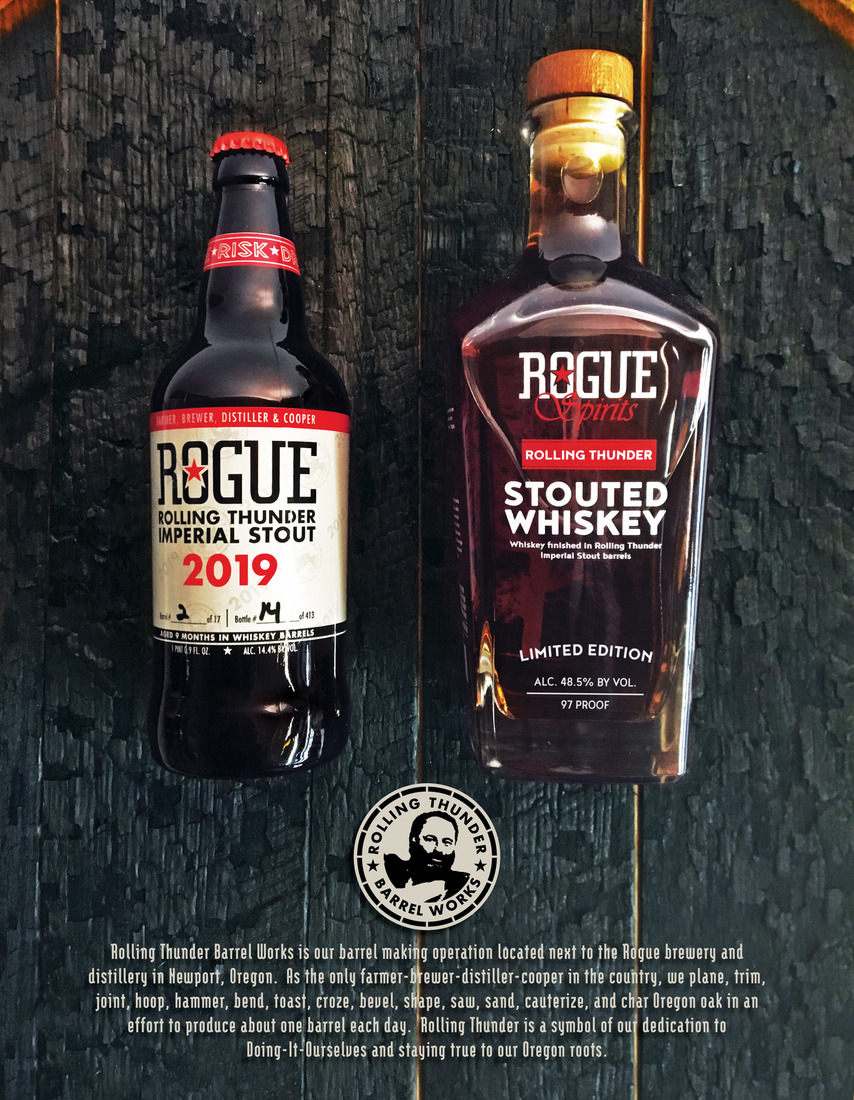 Before we delve into Rogue's newest spirit, you need to understand the labor-intensive process that led up to it. It's a pretty long process.
The best place to start has to be Rogue Farms, the brewery's agricultural arm of their operation in Independence, Oregon. It is there the brewery grows the hops and malts used in a plethora of their beers, especially Rolling Thunder Imperial Stout. It only gets more complicated from here.
Before the brewery in Newport, Oregon is busy making an imperial stout, the Rogue distillery had taken some beer mash to distill into white whiskey. That whiskey hasn't been aging in barrels Rogue simply just ordered from a cooperage. Rogue's got one of those too. In-house barrel-maker Nate Linquist makes barrels out of Oregon Oak (Quercus garryana) that are then charred before the whiskey is left to age.
Once the whiskey was done, Rolling Thunder was transferred into the wet barrels for barrel-aging for months before bottling. Pretty labor intensive for a barrel-aged imperial stout.
Now, Rogue has gone a step further. Those barrels that once had Rolling Thunder Imperial Stout were filled again with Rogue barrel-aged whiskey to finish in the stout touched barrels for an additional two years.
Farm to brewery. Brewery to distilling. Coopering, charring, aging. Rogue continues to do it all. Now you can get Rolling Thunder Stouted Whiskey for your spirits collection. According to Rogue, this new whiskey release boasts prominent notes of chocolate and coffee that complement the flavors of whiskey-soaked Oregon Oak.
Rogue Rolling Thunder Stouted Whiskey is available in 750-milliliter bottles nationally in limited quantities.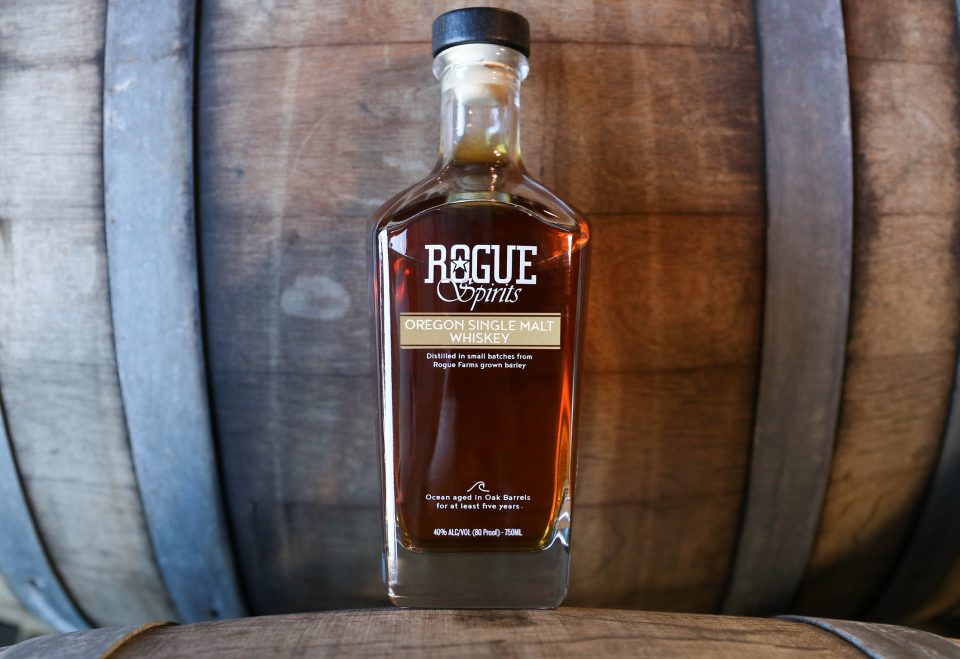 Rogue Oregon Single Malt Whiskey has debuted, the first 5-year aged spirit by the brewery/distillery.
Every bit of the Single Malt Whiskey has Rogue's fingerprint on it. The brewery grew the malt on Rogue Farms. The yeast is Rogue's Proprietary Pacman Yeast. It was distilled on site in Newport, Oregon, and transferred to barrels Rogue coopered and toasted onsite. Then, of course, bottled by hand.
Oregon Single Malt Whiskey opens with an attractive aroma of floral honey, peach and mango. Medium-to-full bodied, the aromas slowly transition to lush, ripe fruit and brown spice.
Rogue Oregon Single Malt Whiskey is available in year-round at select retailers in 750-milliliter bottles.
Style: Single Malt Whiskey
Availability: 750ml Bottles
Debut: February 2018
80 Proof, 40% ABV
Image: Rogue Spirits