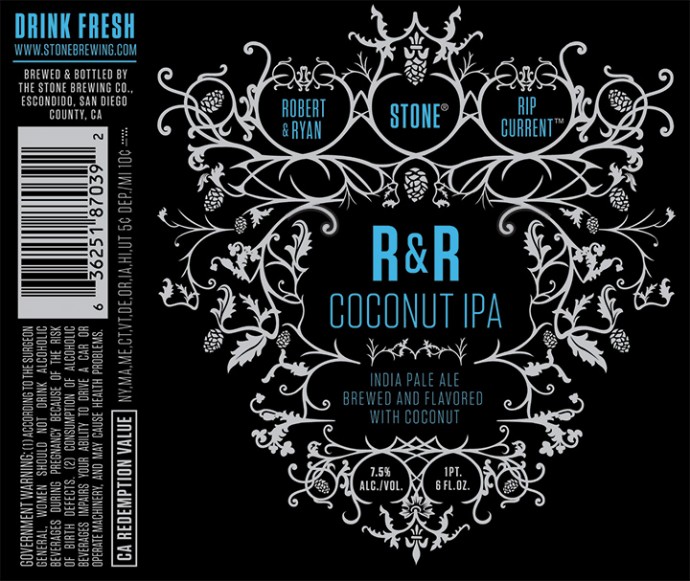 Stone Brewing Co has teamed up with Rip Current Brewing to collaborate with on home brewers Robert Masterson and Ryan Reschan's winning Coconut IPA recipe. The collaboration will arrive later this year.
This collaboration beer is a celebration of the homebrewing spirit and an example of counter-intuitive thoughts coalescing beautifully into something exceptional. Case in point is the seamless marrying of toasted coconut and a hop bill brimming with tropical fruit notes. Longtime homebrewers Robert Masterson and Ryan Reschan teamed up to enter this beer in our annual American Homebrewers Association-sanctioned brewing competition and, though it was the first beer they'd ever brewed together, they sailed past the competition like a tropical ocean breeze on a pleasure cruise bound for India. After winning, the duo reached out to their friend, highly decorated homebrewer and 2011 AHA Nmkasi Award winner Paul Sangster of the newly opened Rip Current Brewing Company, to assist in dialing in the recipe. Together with Gangster's skilled partner Guy Shobe and Stone Brewmaster Mitch Steele, Masterson and Reschan present fellow craft beer enthusiasts with a most delicious and original style of IPA. Open, enjoy, rest, relax and repeat as needed.
"On the nose, you get lots of tropical fruit–mango, passion fruit, pineapple–with some sweet orange and stone fruit from the hops along with toasty coconut sweetness." Ryan Reschan /I Winning Homebrewer 1 love the tropical spin that Robert and Ryan added to an already great IPA recipe." Mitch Steele II Brewmaster, Stone Brewing Co. "The true lest of a beer like this is the balance between the fruity hop and the coconut flavors and, with this one, you feel like you're drinking a tropical drink on the beach."
Paul Sangster // Co-Founder/Brewer, Rip Current Brewing Co.
Style: IPA (w/ Coconut)
Availability: 22oz bombers, Draft
Arrival: TBA
7.5% ABV

Stone Brewing has chosen Rip Current Brewing to collaborate with on Robert Masterson and Ryan Reschan's winning Coconut IPA recipe.
Each year Stone collaborates with another brewery to bring the AHA Homebrew contest winner's recipe to life. Previous collaborators include Tröeg's Brewing (Chocolate Cherry Stout), Iron Fist (Mint Chocolate Imperial Stout), and Maui Brewing just to name a few.