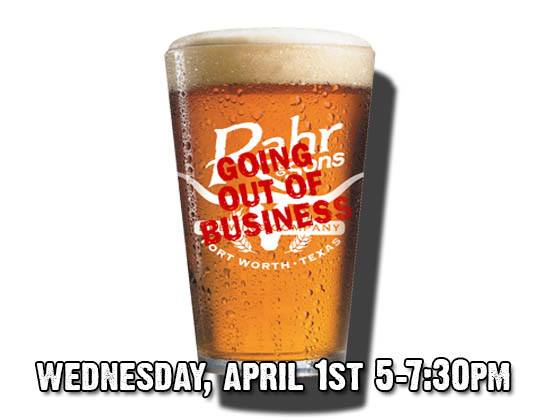 April 1st is always a tough day for the internet. Especially in beer. Start placing your bets on fake stories on brewery sell-outs, beers brewed with even more insane ingredients, compared to what craft beer already uses. Think concoctions like a blonde imperial stout. Oh wait, Stone Brewing Co. really did it.
Fort Worth, Texas based brewery Rahr & Sons posted to their Facebook page today that their last tour was on April 1st and the brewery would close. Seems like fans took it seriously for a minute, until the realization came that it was and April Fool's joke. On March 27th.
Rahr & Sons isn't closing. And that's great. Texas needs craft beer. Deep breaths Texans. Deep breaths.
Ass Kisser Ales (Fort Worth, TX) is putting Ass Kisser and Porter Pounder into 12oz bottles.  Both offerings are currently available in 220z bottles.
Unless something has changed, Ass Kisser beers are brewed by Rahr & Sons in Fort Worth.   Their lineup includes:
Double IPA, 7.75%
Porter Pounder, Smoked Porter 8.03% ABV
 Arrival: TBA