Modist Brewing
Minneapolis, Minnesota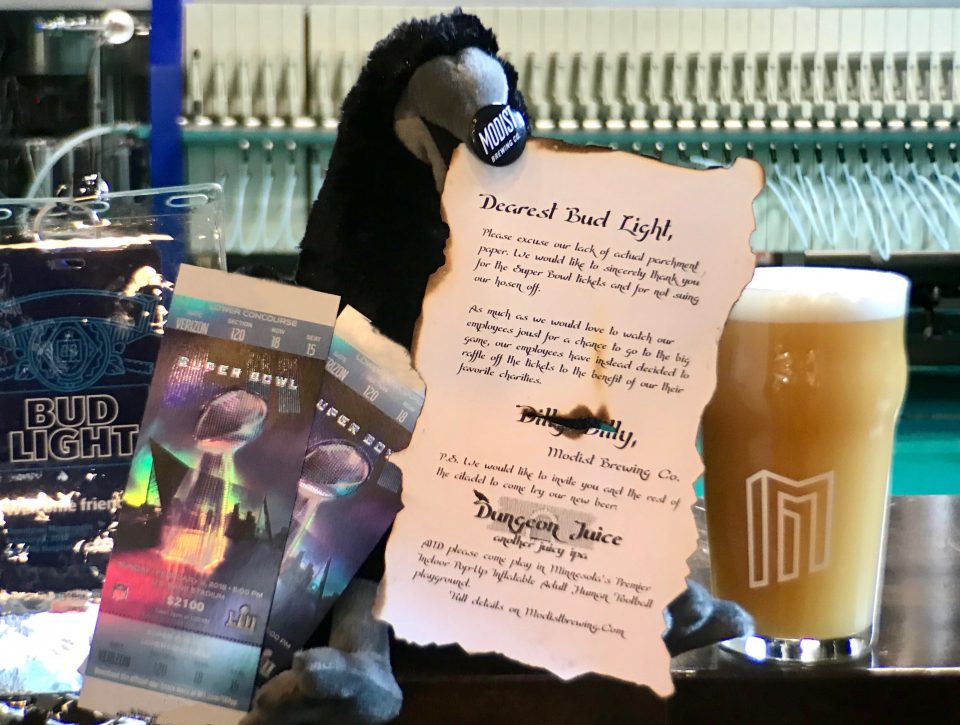 Dilly Dilly. That's nonsensical phrase/ latest creation of the Budweiser marketing team, made popular by the King Arthur style tv spots. You'd think that using a phrase like "Dilly Dilly" to sell light beer would be a dumb idea, but the brand has certainly found great success in the campaign.
Last year, Anheuser Busch filed (and was granted) a federal trademark for "Dilly Dilly", for use in relation to, and selling, their light beer. Basically, if beer is involved, no one but AB can use it.
Minneapolis based Modist Brewing got the attention of AB in December when they released Dilly Dilly Mosaic IPA on draft. Instead of the standard cease and desist letter, Bud took a more classy approach. They sent over their own medieval scribe reading the C&D letter from parchment, then offered a set of Super Bowl tickets to Modist (who is located in the Bowl's host city this year) to smooth it all over.
Instead of taking the very expensive seats for themselves, Modist has decided to raffle off the tickets to Minnesotans. The proceeds will go to the employee's favorite charities.
"As much as we would love to watch our employees joust for a chance to go to the big game, our employees have instead decided to raffle off the tickets  to the benefit of their favorite charities…"
The whole incident will ultimately raise a good bit of money for a good cause.
Modist is hoping to raise a whopping $50,000 dollars for charity. Starting January 30th at 7 pm, raffle tickets can be purchased for $25 dollars at the taproom. You have to purchase the tickets in person.
We will be only raffling off 2,000 tickets, limit 2 per customer, with a goal of raising $50,000!
These are badass seats: Section 120, Row 18, seats 15 and 16
In addition to raising money for our causes, our goal is to also give Minnesotans a really good chance at winning. If you buy 2 tickets, your chances are 1/1,000 (assuming we sell them all). If you and whoever you'd bring get to tickets, your chances are 1/500 – for a prize with a current market value of close to $10,000. It's kinda cool.
In honor of the raffle, as well as playing off the mediavel "legal" actions of late, Modist will debut Dungeon Juice today at 5 pm. Subtitled "Another  Juicy IPA", the release is brewed with heaping amounts of Simcoe, Azacca, and Citra hops.
The Eagles meet the Patriots on Sunday at 6:30 pm EST.
Image via Modist Brewing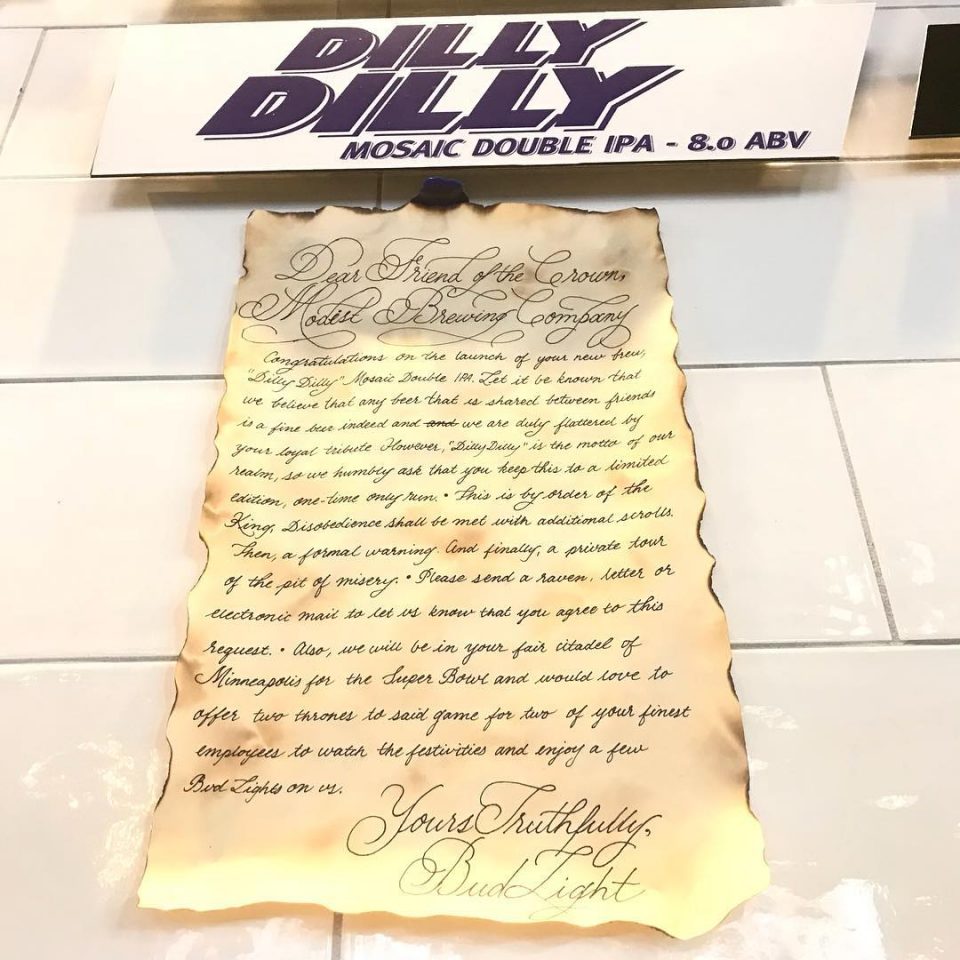 Anheuser Busch is notorious for their litigious nature. The brewing giant has served numerous cease and desist letters to everyone from wineries, coffee roasteries, to craft breweries. This week, AB served a new cease & desist letter, this time to Modist Brewery in Minneapolis, Minnesota. Instead of the usual legal correspondence, Anheuser Busch had a little fun with it.
Dilly, Dilly! The nonsensical catchphrase that has swept the nation thanks to the latest Bud Light commercial, spoken by a king in a medieval setting. (Think of it like the WAZZZZUP commercials that started airing in 1999.)
Modist Brewing Company saw "Dilly Dilly" as a name for their Mosaic imperial IPA. That caught the eye of Budweiser's attorneys. Instead of a simple c&d letter, Bud got creative. As the beer tapped on December 1st, enter a "medieval scribe who read the desist letter from an actual scroll, asking that Dilly Dilly be a limited edition release. Then, offered two tickets to the 2018 Super Bowl. The letter reads:
Dear Friend of the Crown, Modest Brewing Company

Congratulations on the launch of your new brew, "Dilly Dilly" Mosaic Double IPA. Let it be known that we believe that any beer that is shared between friends is a fine beer indeed and we are truly flattered by your loyal tribute. However, "Dilly Dilly" is the motto of our realm, so we humbly ask that you keep this to a limited edition, one-time only run. This is by order of the King, disobedience will result with additional scrolls. Then, a formal warning. And finally, a private tour of the pit of misery. Please send a raven, letter or electronic mail to let us know that you agree to this request. Also, we will be in your citadel of Minneapolis for the Super Bowl nd would love to offer two thrones to said game for two of your finest employees to watch the festivities and enjoy a few Bud Lights on us.

Yours Truthfully, Bud Light
That's a hell of a way to take the high road if you ask us.