Kirin Brewing will add frozen draft beer to its Ichiban Shibori lineup for restaurants starting March.  The beer itself isn't frozen, the head of it is.  Kirin has developed a special tap that will chill/freeze the head of the beer at 23 degrees Fahrenheit.   The frozen part acts a lid to keep the beer cold for up to 30 minutes, and can be eaten as a sorbet.  Ichiban Shibori frozen beer will be available in close to 1,000 restaurants in Asia by the end of the year.
The foam machine seen in the video below produces the head by a method called "Frozen Agitation."  Air is blown into the beer to fluff up the head, and then flash chilled.  It's dispensed much like soft serve ice cream.
Tokyo, Japan will see the first city to see the frozen beer, then around Japan after.  If Kirin sees success in the Asian launch, the U.S. could see the machines too.
"We want young consumers to enjoy drinking beer in a new way," said Koichi Matsuzawa, president of Kirin Brewery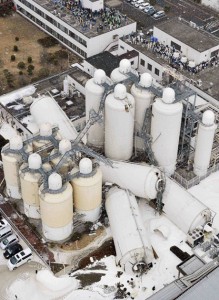 Beer is the last thing Japan needs to be worrying about right now. However beer, like car manufacturing bears economic importance.  Total shipments of beer in March 2011 fell 10.9%.   Breweries like Asahi, Kirin, & Kiuchi (Hitachino) have had to deal with power outages, material shortages, & brewery damage.   Kiuchi actually stopped brewing altogether for a while in order to produce water for the victims.  They have slowly started to brew again.
Overall, 10.9% decline pushes total production down to 33.34 million cases.  Consumer confidence is down too.  Consumption is down after the quake.  As is a worry of radiation.  Kiuchi Brewing has performed it's own independent research and found negligible radiation findings. <MainichiDailyNews>